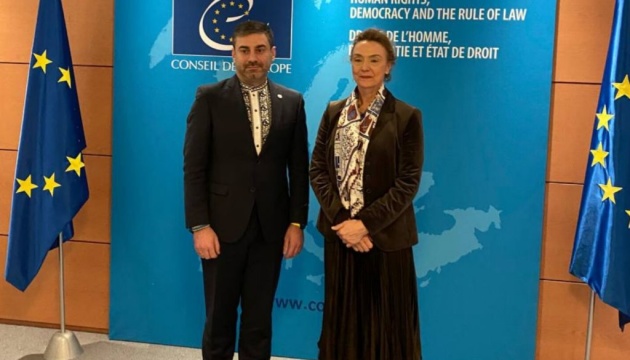 Russia tribunal, reparations: Lubinets addresses CoE Secretary General
During a meeting with the Secretary General of the Council of Europe, Marija Pejcinovic-Buric, the Verkhovna Rada Commissioner for Human Rights, Dmytro Lubinets, asked her to raise the issue of the international tribunal and Russian reparations to Ukraine at the 4th Summit of the Council of Europe leaders in Reykjavík in May this year.
Lubinets reported this via Telegram, according to Ukrinform.
According to the official, during the meeting he "first of all thanked for the important work that the Council of Europe is doing in this difficult time and for the support that the Council of Europe provides to Ukraine and the Office of the Commissioner." In particular, he thanked for the Action Plan for Ukraine for 2023-2026 'Resilience, Recovery and Reconstruction,' adopted on December 14, 2022, worth EUR 50.
The Human Rights Commissioner of the Verkhovna Rada expressed confidence that "the measures laid down in the Plan will contribute to the documentation of rights violations, even greater protection of the rights of internally displaced persons, persons returning from abroad, and people whose homes were destroyed or damaged as a result of the war unleashed by Russia."
The two also discussed the Law of Ukraine on national minorities (communities).
The issue of deportation of Ukrainian children was raised separately. Today, 14,732 children are considered deported, Lubinets informed.
In addition, the ombudsman presented the structure of his Secretariat and emphasized the strategic areas of activity and the development of the regional network of his representative offices.
"He also presented a special report on the observance of the rights of persons who suffered as a result of Russia's armed aggression against Ukraine, which highlighted the situation of the rights of IDPs, people living under occupation, and citizens who found refuge abroad," Lubinets said.
According to the human rights commissioner, Pejcinovic-Buric said she welcomes the cooperation with the Russian ombudsman regarding the release of prisoners of war and civilian hostages.
"That's why I asked her to raise the issue of the tribunal and reparations at the 4th Summit of Heads of State of the Council of Europe in Reykjavík in May of this year," Lubinets said.
As reported by Ukrinform, PACE called on the leaders of the member states of the Council of Europe at the summit in May to lead the initiative to create a Special International Criminal Tribunal for the crime of Russian aggression against Ukraine, as well as to support the creation of an international compensation mechanism for damages inflicted during the aggression.
Photo: Ombudsman of Ukraine