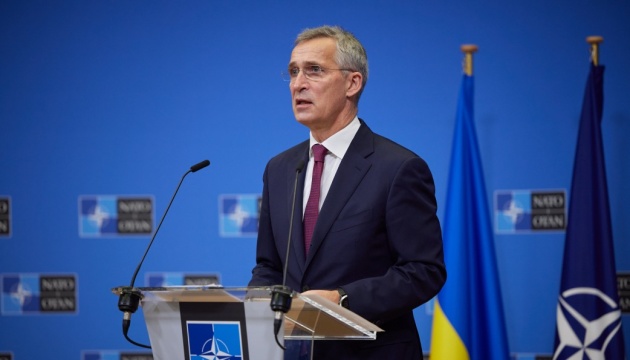 NATO Secretary General accepts Honorary Award of Verkhovna Rada
NATO Secretary General Jens Stoltenberg accepted the Honorary Award of the Verkhovna Rada of Ukraine for a contribution to the strengthening of Ukrainian democracy on Monday, January 23.
"Secretary General Jens Stoltenberg accepted the Honorary Award of the Verkhovna Rada, the unicameral Parliament of Ukraine, in a ceremony at NATO Headquarters on Monday (23 January 2023). The Honorary Award is the highest award given by the Verkhovna Rada for significant contributions to any sphere of life, outstanding socio-political activities, services to the Ukrainian people in promoting and strengthening Ukraine as a democratic, social, legal state," reads the press release on NATO's website.
During the awarding ceremony, Mr Stoltenberg said that NATO has supported Ukraine since it regained its independence, and that the Alliance has stepped up more than ever since Russia launched its full-fledged war of aggression almost one year ago. He welcomed that NATO Allies are providing unprecedented military, financial and humanitarian aid to support Ukraine's right to self-defence, as enshrined in the UN Charter, saying that NATO is committed to supporting Ukraine for as long as it takes.
NATO Secretary General welcomed Allies' announcements of more advanced heavy weaponry made at the meeting of the US-led Ukraine Defence Contact Group in Ramstein last week.
"I am honoured to accept this award in recognition of NATO's long-standing support for Ukraine, but the real recognition should go to you. The bravery and determination of the Ukrainian people, government, the Rada and armed forces has inspired us all. As you heroically defend your freedom and democracy – our shared values," he stressed.
The award was presented by Oleksandr Korniyenko, co-chair of the Ukraine-NATO Interparliamentary Council and head of the Ukrainian delegation at the NATO Parliamentary Assembly.
The awarding ceremony took place during the meeting of the Ukraine-NATO Inter-Parliamentary Council.
ol