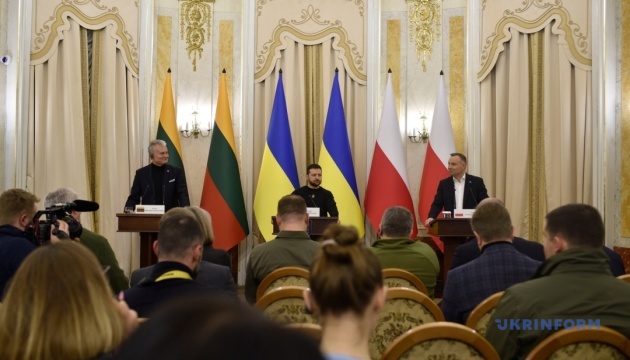 Poland, Lithuania support Ukraine's membership in NATO - Lublin Triangle summit
Presidents Volodymyr Zelensky of Ukraine, Andrzej Duda of Poland and Gitanas Nauseda of Lithuania signed a declaration at the Lublin Triangle summit in Lviv on January 11, which says that Lithuania and Poland support Ukraine's membership in NATO and seek consensus on this issue among Allies.
That's according to the press service of the President of Lithuania, Ukrinform reports.
The declaration also states that the countries will continue trilateral consultations with the aim of strengthening Ukraine's security. The presidents welcomed Ukraine's obvious progress on the path of Euro-Atlantic integration, especially its rapid progress towards cooperation with NATO.
The participants in the second summit of the Lublin Triangle also stressed the importance of the centuries-old strategic partnership between Lithuania, Poland and Ukraine, as well as the determination of Lithuania and Poland to provide Ukraine with all possible assistance to protect it from Russia's military aggression.
"Lithuania and Poland confirmed their determination to continue providing military, political, diplomatic, economic and humanitarian assistance to Ukraine. The war in Ukraine is our common war. The war of the free world against the dictator. We will be with Ukraine until victory for as long as it takes," Nauseda said.
Duda, in turn, posted a video on his Twitter account with the caption that "a Joint Declaration of the Presidents of the Lublin Triangle was signed today in Lviv."
Lublin Triangle is a platform for political, economic and cultural cooperation between Lithuania, Poland and Ukraine. Created in 2020, it is aimed at strengthening regional cooperation. The first summit of the Lublin Triangle took place in December 2021. Ahead of the Russian military invasion of Ukraine, on February 23, 2022, another meeting of the heads of states of the Lublin Triangle took place in Kyiv.