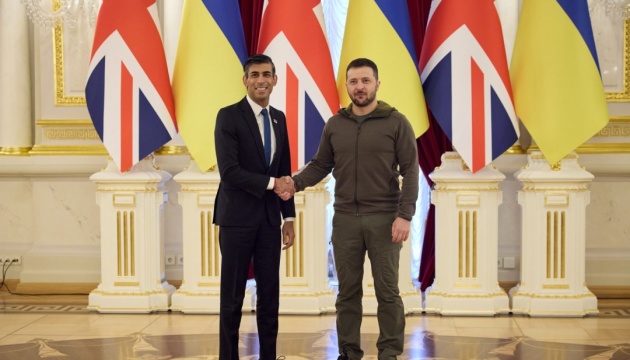 Zelensky, Sunak discuss defense, energy cooperation, peace formula
President Volodymyr Zelensky discussed the implementation of the peace formula, defense and energy cooperation with British Prime Minister Rishi Sunak.
"I maintain a regular dialogue with British Prime Minister Rishi Sunak. Today we discussed the implementation of our peace formula, cooperation on defense capabilities and energy stability of Ukraine," Zelensky posted on Twitter.
In addition, the leaders synchronized positions before the G7 online summit.
As reported, addressing the G20 summit participants on November 15, President Volodymyr Zelensky proposed a peace formula and outlined 10 mandatory conditions for ending the war in Ukraine. In particular, he mentioned radiation, nuclear, food, and energy security, release of all prisoners and deportees, implementation of the UN Charter and restoration of the territorial integrity of Ukraine and the world order, withdrawal of Russian troops and cessation of hostilities, restoration of justice, fight against ecocide, prevention of escalation, consolidation of the end of the war.
ol