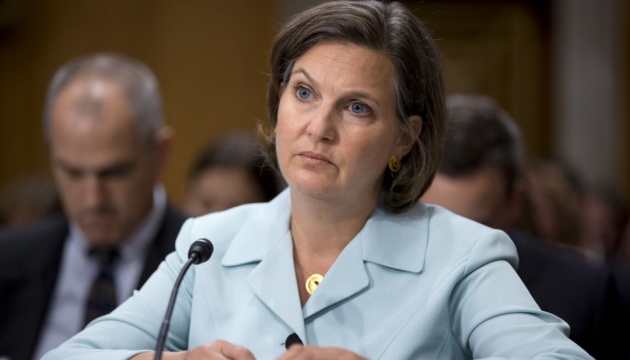 Nuland: Ukraine winning this barbaric war, Putin losing it
U.S. Under Secretary of State for Political Affairs Victoria Nuland believes that Ukraine is winning the barbaric war unleashed by Russia and Putin is losing it.
Nuland told journalists that she has spent two very busy days in Kyiv and met with a number of high-ranking Ukrainian officials, including President Volodymyr Zelensky and Prime Minister Denys Shmyhal, members of the government and parliamentarians, as well as civil society activists.
"My main message is a message of solidarity with the people of Ukraine at this difficult time when Putin has reached a new level of barbarism, depriving the homes of civilians of electricity, heat and water. However, Ukraine is winning this war, and Putin is losing it. You, Ukrainians, are fighting for all of us, and we support you so that Ukraine withstands and wins. The victory of Ukraine will mean the victory of freedom," Nuland said, an Ukrinform correspondent reports.
The U.S. Under Secretary of State also informed that she discussed at the meetings with representatives of Ukrenergo national power company the start of energy equipment supplies from the USA within the framework of the aid package announced by Secretary of State Antony Blinken, and expressed hope that this will happen in the coming days.
ol