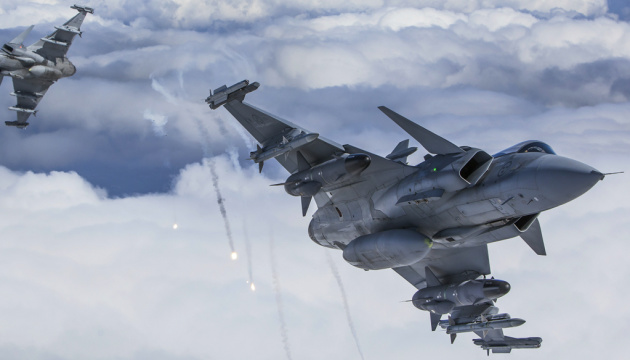 Swedish MP calls for selling SAAB JAS 39 Gripen fighter jets to Ukraine
The government of Sweden should allow the sale of Swedish SAAB JAS 39 Gripen fighter jets to Ukraine, in which the Ukrainian side is interested.
This was stated by Magnus Jakobsson, a member of the Swedish Parliament (Riksdag), a representative of the Christian Democratic Party, which is part of the coalition, who spoke with Guildhall, Ukrinform reports.
"As for military aid in general my position is that I always argue that Sweden has to be ready to sell arms. In particular I know that the Ukrainian side is interested in Swedish aircraft JAS 39 Gripen (SAAB), and I say that we have to make it possible. We have a law in Sweden that says we are not allowed to sell military equipment to a country that is at war, but since we are already giving equipment to Ukraine, of course we should have the possibility to sell also," the lawmaker says.
"So, we should increase military and aid in general and also I am for selling SAAB JAS 39 Gripen," the legislator stressed.
As Ukrinform reported earlier, the Foreign Minister of Sweden, Tobias Billström, is in Kyiv on Monday alongside colleagues from other Northern European and Baltic states, in a show of continued support to Ukraine.
The top diplomats signed a joint statement on further assistance to the war-torn nation, condemning Russian aggression.
Tobias Billström said Sweden is providing Ukraine with the largest assistance package the country has ever offered so far, which includes air defense systems, ammunition, vehicles, winter gear and uniforms among other items, as well as EUR 270 million.
This is a "breakthrough" package, the minister says.