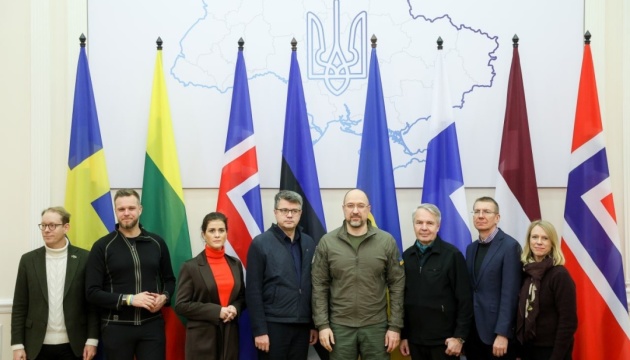 Northern Europe, Baltic states commit to continued support for Ukraine
Foreign ministers of Northern European and Baltic states have committed to continue supporting Ukraine politically and practically to ensure the country's defense capabilities.
That's according to a joint statement by the Foreign Ministers of Estonia, Finland, Iceland, Latvia, Lithuania, Norway, Sweden, and Ukraine, signed in Kyiv on Monday, Ukrinform reports, referring to MFA Ukraine's press service.
The ministers strongly condemn the Russian war of aggression against Ukraine "that has caused enormous suffering to the Ukrainian people," undermined security and stability in Europe, and represents "a serious attack on our rules based international order."
Ukraine has the inherent right to self-defense to ensure its independence and sovereignty and restore its territorial integrity within its internationally recognized borders, the top diplomats recognize.
"Since the beginning of Russia's full-scale invasion, the Nordic and Baltic states have provided substantial political, economic, military and humanitarian support to Ukraine. We will continue working together in providing political and practical support to ensure Ukraine's ability to defend its independence and territorial integrity," the statement says.
The ministers condemn "in the strongest terms" Russia's attacks against civilians and critical infrastructure, including energy facilities, aiming at terrorizing the civilian population. These attacks on civilians constitute war crimes, they believe.
"Russia must cease these actions immediately. We deem it important to continue providing international support aimed at improving Ukraine's air defence capabilities, thus enabling the protection of Ukraine's civilian infrastructure against Russia's inhumane attacks," the joint statement says.
The ministers also urge Russia to release Ukrainian civilians illegally deported and detained under political pretext as well as those taken hostage during the full-scale invasion of Ukraine.
"We firmly reject Russia`s irresponsible and highly provocative rhetoric on nuclear weapons. We strongly condemn the continuous occupation of the Zaporizhzhia Nuclear Power Plant and relentless attacks against civil nuclear facilities in Ukraine. These attacks are in gross violation of international law and pose a direct threat to nuclear safety and security," the eight foreign ministers emphasized.
The ministers agreed on the need to continue to impose economic costs on Russia and on other countries, individuals or entities providing support for Moscow's war of aggression, reiterating the necessity to strengthen sanctions on Russia and to ensure that the measures are strong and efficient. Russia's main export revenues must be cut off, so that they are no longer able to fuel its war against Ukraine, the top diplomats believe.
"We should continue to raise the cost for Russia until the very last Russian soldier has left the internationally recognized territory of Ukraine and until Russian aggression has stopped," the statement reads.
The ministers also emphasized the importance of limiting the issuance of Schengen and national visas of Russian citizens into the European Union.
The heads of diplomacy committed to provide further humanitarian assistance to Ukraine and support the country's efforts to prepare for winter, including by repairing damaged infrastructure.
"We call on international community to support Ukraine's reconstruction, including exploring ways to do so with funds from Russia," the statement reads.
As Ukrinform reported earlier, the top diplomats of Estonia, Island, Latvia, Lithuania, Norway, Finland, and Sweden arrived in Kyiv to discuss further support for Ukraine.