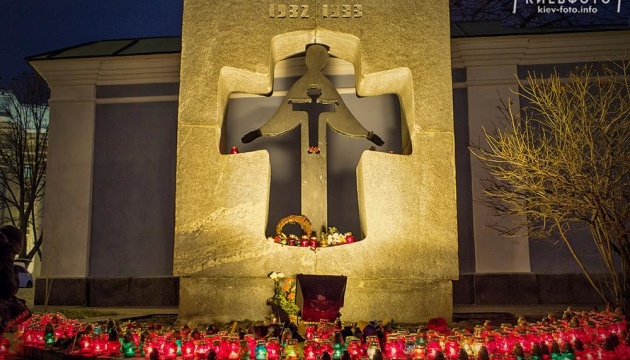 Duda, Nauseda, Iohannis, Levits call on world to recognize Holodomor as crime of Stalin's regime
The presidents of Lithuania, Poland, Romania, and Latvia confirmed their readiness to continue supporting Ukraine in countering Russian aggression and called on the international community to recognize the 1932-1933 Holodomor in Ukraine as a crime of the Stalin regime.
That's according to a joint statement of the four leaders, Andrzej Duda, Gitanas Nauseda, Klaus Iohannis, and Egils Levits, signed on Friday during their meeting in Kaunas, Ukrinform reports with reference to the Lithuanian leader's website.
The presidents support Ukraine's efforts toward EU integration, as well as NATO membership, which will be possible "as soon as conditions allow."
In light of Russian aggression, they expressed their "readiness to further strengthen their coordination efforts in providing comprehensive political, military, technical, and humanitarian support to Ukraine."
The presidents also agreed to strengthen cooperation in the fight against disinformation and Russia's "attempts to rewrite history," and called on the international community "to recognize crimes committed by the Stalinist regime, including the Holodomor of 1932-33 in Ukraine."
The four leaders also declared their full support for Moldova and Georgia.
As Ukrinform reported earlier, lawmakers in both houses of the Romanian Parliament at a joint meeting on November 23 voted for a declaration condemning the Holodomor, to which the Ukrainian people were subjected in 1932-1933.
On the fourth Saturday of November, Ukraine commemorates the victims of the Holodomor. In the 20th century, Ukrainians suffered three famines: in 1921-1923, 1932-1933, and 1946-1947. The most extensive was that of 1932-1933 – it is referred to as the genocide of the Ukrainian people, carried out by the Stalin regime.
According to a poll run by the Rating Sociological Group in November 2022, some 93% of Ukrainians believe that the Holodomor of 1932-1933 was a genocide of the Ukrainian people. Only 3% deny it.