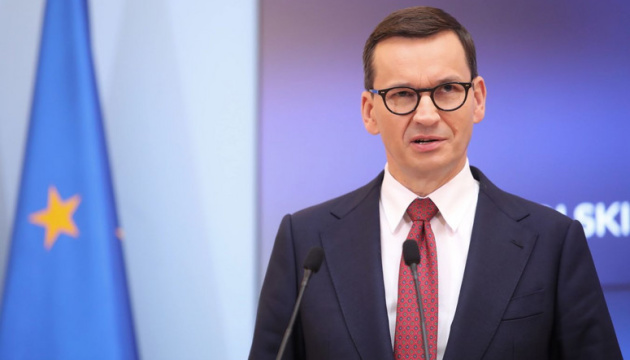 Morawiecki: Patriot missiles in Ukraine to protect sky over country's western part
The deployment of Patriot anti-aircraft missile systems, which Germany promised to deliver to Poland, on the Ukrainian side of the border will allow to protect the sky over the western part of Ukraine and prevent another wave of refugees to Poland.
Polish Prime Minister Mateusz Morawiecki spoke of this before the start of the Visegrad Group summit, which will be held in Kosice, Slovakia, on Thursday, an Ukrinform correspondent reports.
"We want this space to be protected as best as possible because missiles and bombs are falling on Kyiv, Lviv, Ivano-Frankivsk, Kovel, Rivne, and Lutsk, but these cities should have been protected. Waves of refugees are fleeing from there to Poland, and we are afraid of another big wave. We discussed how to best use the German proposal (to transfer the Patriot air defense system to Poland - ed.) in order to protect as much of the threatened territory as possible," Morawiecki emphasized.
He added that such a proposal from Warsaw is "good" because it will protect the western border of Ukraine.
"We are doing everything possible to guarantee as much security as possible in this part of Europe," Morawiecki stated.
He added that now Ukraine is protecting the whole of Europe.
"If Ukraine loses, Putin will move on," the head of the Polish government emphasized.
The Prime Minister of Poland noted that during the meeting with the heads of the Visegrad governments in Košice, security issues, in particular energy security, will be discussed.
Morawiecki also announced that during the summit he will be working to convince Hungarian Prime Minister Viktor Orbán to allow Budapest to agree to Finland and Sweden's accession to NATO as soon as possible.
He noted that in recent months the Visegrad countries have been divided on issues of support for Ukraine (due to Hungary's radical position - ed.). The head of the government of the Republic of Poland emphasized that it is impossible to allow the "breakup of the Visegrad Group" because of this.
As Ukrinform reported earlier, yesterday the Deputy Prime Minister and Minister of National Defense of Poland, Mariusz Blaszczak, said that Poland asked Germany to hand over Patriot anti-aircraft missile systems to Ukraine, which Berlin had previously promised to place on the Polish-Ukrainian border.
It should be recalled that German Defense Minister Christine Lambrecht promised a few days ago that Germany would deploy the Patriot air defense system in Poland near the border with Ukraine.
As reported, in the village of Przewodów, Lublin Voivodeship, near the Polish-Ukrainian border, two people were killed as a result of a missile hit on November 15.
It is known that the relations between Warsaw and Budapest deteriorated sharply after the start of the full-scale war of Russia against Ukraine. While Poland openly opposed Russian aggression and began to provide comprehensive support to Ukraine, Hungary continued cooperation with Russia, questioned the Russian crimes in Ukraine, partially blocked the introduction of certain sanctions on the Russian Federation, and also refused to provide weapons to Ukraine.
Since February 24, a full-scale Russian armed aggression has been going on in Ukraine.