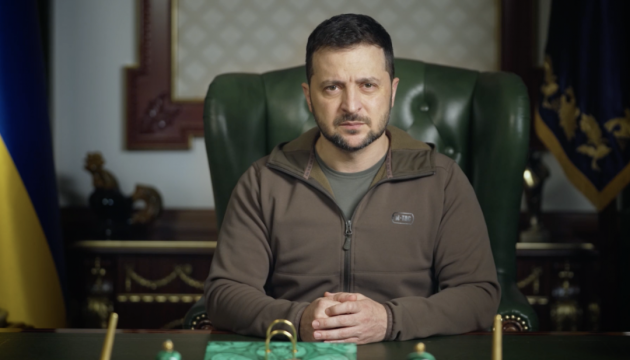 Zelensky at UNSC meeting: We are waiting for reaction to Russian terror
Ukrainian President Volodymyr Zelensky has said that the terrorist state cannot participate in any vote related to the issues of its aggression.
The head of state said this in a video address at a meeting of the UN Security Council, according to Ukrinform's correspondent in New York.
Zelensky called on the UN to condemn Russian missile attacks on Ukraine's energy infrastructure: "While Ukraine offers a ten-point peace plan, Russia responds with missiles. We are waiting for a reaction to Russia's terror. We need air defense systems. It's time to support the Ukrainian peace formula."
Zelensky also invited UN representatives to come and look at what Russia has done to Ukrainian infrastructure.
"The terrorist state should not participate in any voting on the issues of its aggression, its terror. It is a stalemate when the one who caused the war, the one responsible for the terror, blocks any attempt by the UN Security Council to fulfill its mandate," he said.
According to the president, Russia is doing everything "to make the electric generator a more powerful and necessary tool than the UN Charter." But the UN can correct this situation in order to "not be held hostage by one international terrorist," he added.
Zelensky also noted that the shelling of Ukraine's critical infrastructure is the Russian formula for terror, which affects not only Ukraine, but also neighboring states.
With temperatures being below zero and tens of millions of people being left without electricity, heating, water, "this is a weapon of mass destruction, this is an obvious crime against humanity", Zelensky said.
Photo: President's Office