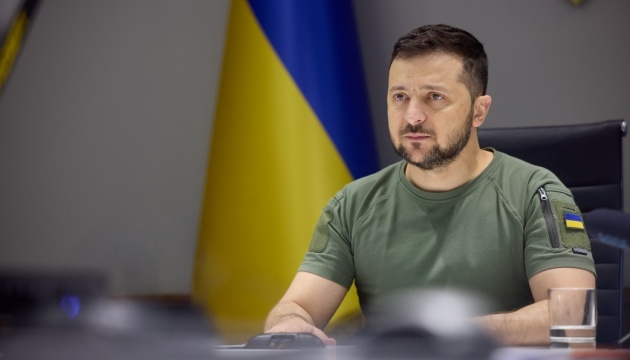 Zelensky calls on NATO PA to support Ukraine's accession to military alliance
Ukrainian President Volodymyr Zelensky has called on participants in a plenary meeting of the NATO Parliamentary Assembly to support Ukraine's applications for membership in the European Union and NATO.
He said this in a video address to participants in a plenary session of the NATO Parliamentary Assembly in Madrid, according to an Ukrinform correspondent.
"Although Ukraine has not yet become a full-fledged part of the EU and NATO, I am addressing you on behalf of the people who have always been, are and will be part of the valuable space to which you all belong. History brought us to different sides of ideological walls. But the walls fell, and our values are all preserved. And not only me, but millions of our people and the majority of citizens of your states support the European and Euro-Atlantic integration of Ukraine. Now, when we are defending European values not in the squares and streets, but on the battlefield in a full-scale war, it is absolutely obvious how unfair and unnatural Ukraine's alienation from Europe was. We will not leave a single percent of that alienation," Zelensky said.
He urged those present to do everything in their power "so that our community of nations - nations of values - will never again be divided or weakened!"
Zelensky said that those who cannot imagine their life without freedom are now in danger.
"All of you see what endangers us. All of us! All who cannot imagine their life without freedom. All of you can see Ukraine's significant contribution to the protection of our community. Everyone sees how important it is that we really united in defense after February 24. So, due to this, you also see that Ukraine should become a full member of the European Union and NATO. And I urge you to support our applications for membership in the EU and the Alliance!" he said.
Zelensky noted that Ukrainians do not just believe, but are confident that they will be able to defend themselves in this war and "return the borders of a united Europe to the entire length of our eastern and southern borders."
"Ukrainians do not just believe - Ukrainians know that the strength of our democracy will be a guarantee that no tyranny to the east of us will be able to threaten Europe. But in order to realize all these years, to realize all this, we have to use all the strength of our community, all the potential of our cooperation in order to gradually stop this terrorist Russian war and restore peace," he said.
On November 21, the NATO Parliamentary Assembly called for the creation of a special international tribunal to prosecute Russia's crime of aggression against Ukraine and declared Russia to be a terrorist state.
Photo: President's Office