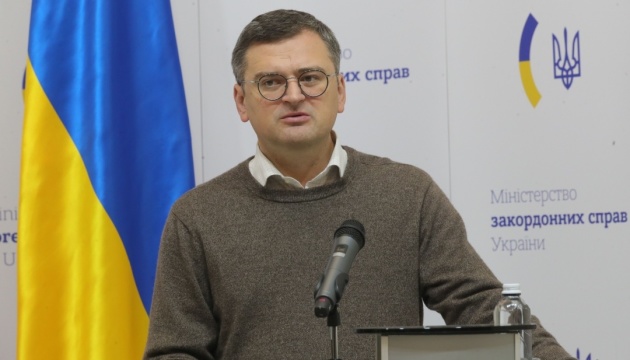 FM Kuleba outlines results of his African tour
Minister of Foreign Affairs of Ukraine Dmytro Kuleba commends the results of his first African tour and announced preparations for the second one.
"I am pleased with the trip [to African countries]. First, we began to understand the nuances of African politics, the situation and opportunities for Ukraine in Africa much better. Second, the views of our African colleagues on a number of issues were changing literally before our eyes, because Russian propaganda has been working quite powerfully in Africa," Kuleba said at an online briefing on Tuesday, an Ukrinform correspondent reports.
According to him, the first, immediate results of the African tour could be seen in the vote for the historic resolution of the UN General Assembly, which was supported by 143 states, including all four countries visited by the minister: Senegal, Côte d'Ivoire, Ghana, and Kenya.
"But this is only the result that is on the surface. During the tour, we managed to agree on a number of specific things," he noted.
The minister mentioned the results of the African tour, including the agreement on visits to Ukraine by the President of Senegal and the Minister of Foreign Affairs of Côte d'Ivoire, the decision to open the Embassy of Ukraine in Ghana and the development of a road map for the development of Ukraine–Ghana relations, a number of business forums, decisions on the visit of Côte d'Ivoire's business delegation to Ukraine, a number of memoranda of understanding between the Exporters and Investors Council under the Ministry of Foreign Affairs of Ukraine and relevant African institutions.
The minister had to end the tour of African countries ahead of schedule due to Russian missile terror using Iranian drones. Still, Ukraine's representative for the Middle East and Africa Maksym Subkh has already visited Ethiopia, Mozambique, Botswana, South Africa, and today is visiting Nigeria on behalf of the minister.
Responding to journalists' questions, Kuleba said that he did not plan to resume the interrupted tour but the preparation for the second one would start soon.
Kuleba added that President Zelensky had already held 17 conversations with African leaders this year, and the first major Ukraine-Africa conference was planned to be held next year.
As reported, on October 3, Minister of Foreign Affairs of Ukraine Dmytro Kuleba began the first-ever tour of African countries in the history of Ukrainian diplomacy which was supposed to last until October 12.
ol