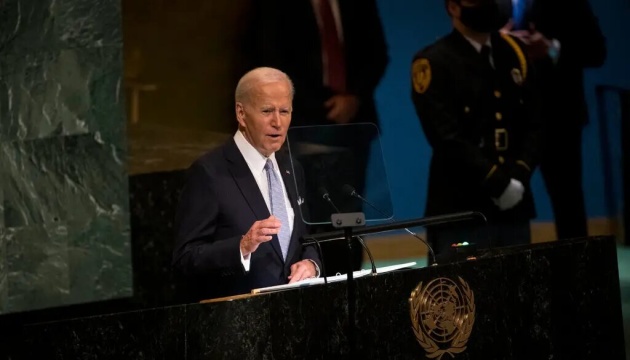 Biden warns Russia against annexing more of Ukraine's territories
U.S. President Joe Biden has called "reckless" Russia's latest nuclear threats and warned Vladimir Putin's regime from holding sham referenda and annexing new Ukrainian territories.
That's according to Biden's address to the United Nations General Assembly, an Ukrinform correspondent in New York reports.
Biden called Russia's plans for holding "referenda" in the occupied areas of Ukraine a "sham," noting that they were aimed at annexing more of Ukraine's lands.
"Let us speak plainly: A permanent member of the United Nations Security Council invaded its neighbor, attempted to erase the sovereign state from the map. Russia has shamelessly violated the core tenets of the United Nations' charter, no more important than the clear prohibition against countries taking the territory of their neighbor by force," President Biden said.
"Putin's own words make his true purpose unmistakable: Just before he invaded, Putin asserted, and I quote, 'Ukraine was created by Russia' and never had 'real statehood,'" Biden said. "This war is about extinguishing Ukraine's right to exist as a state, plain and simple."
"Ukraine has the same rights that belong to every sovereign nation. We will stand in solidarity with Ukraine. We will stand in solidarity against Russia's aggression, period," said the U.S. president.
As Ukrinform reported earlier, high-level meetings kicked off as part of the 77th session of the UN General Assembly in New York.