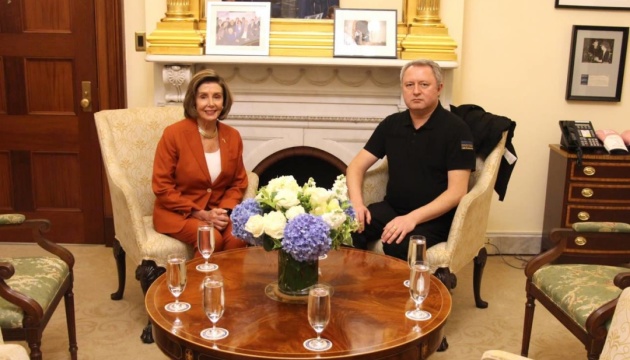 Ukraine's top prosecutor, U.S. House speaker discuss Russian war crimes
As part of his official visit to the USA, Prosecutor General Andriy Kostin of Ukraine met with U.S. House Speaker Nancy Pelosi.
That's according to the PGO press service, Ukrinform reports.
"The Prosecutor General thanked Ms. Pelosi, the U.S. government, and the American people for their support for Ukraine," the statement reads.
According to Kostin, the de-occupation of Ukrainian territories became a reality thanks to the military and financial assistance provided to Ukraine by the United States and other partners.
"Legal support is also important. Our common goal is to restore justice for the victims and bring those guilty of war crimes to justice," he informed.
Kostin said that new horrifying crimes are recorded daily on Ukrainian soil. "Russia is committing genocide against the Ukrainian people," he clarified.
The Prosecutor General assured that his office and law enforcement agencies are doing everything possible to ensure an effective inquiry.
At the same time, he expressed his conviction that the currently available international mechanisms are insufficient for a significant response to Russian aggression, noting that the turning point for success will come if a Special Tribunal is set up to hold Russian leadership accountable at the international level.
Also during the meeting, Kostin and Pelosi discussed the development of a compensation mechanism and recognition of the Russian Federation as a state sponsor of terrorism.
During his U.S. visit, Kostin is also set to meet with Prosecutor of the International Criminal Court, Karim Khan, who is working to investigate Russian crimes in Ukraine.