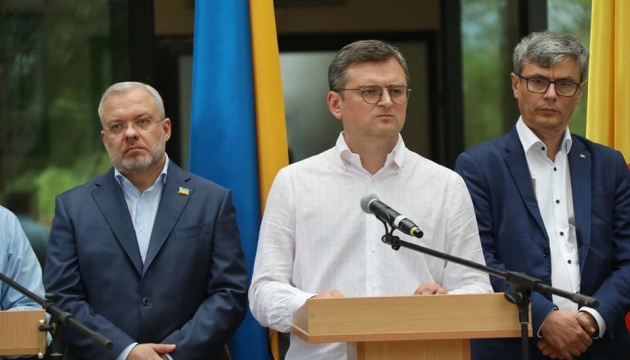 Kuleba: Ukraine, Moldova, Romania launch new format of cooperation
The ministers of foreign affairs of Ukraine, Moldova, and Romania together with the energy ministers of these countries initiated a new tripartite cooperation format.
"Today in Odesa, I hosted foreign ministers of Moldova and Romania to launch a new trilateral format. Together with energy ministers, we focused on energy security and agreed to implement a number of projects which will expand Ukraine's electricity supplies to Moldova and Romania," Minister of Foreign Affairs of Ukraine Dmytro Kuleba posted on Twitter.
According to the joint communique published by the Ministry of Foreign Affairs of Ukraine, this ministerial meeting is the first of its kind in the history of the trilateral Ukraine-Republic of Moldova-Romania relations. It said the parties analyzed the implications for the region's security environment, including managing refugee flows, responding to humanitarian needs, ensuring energy security, and protecting safe and reliable modes of transport and transit.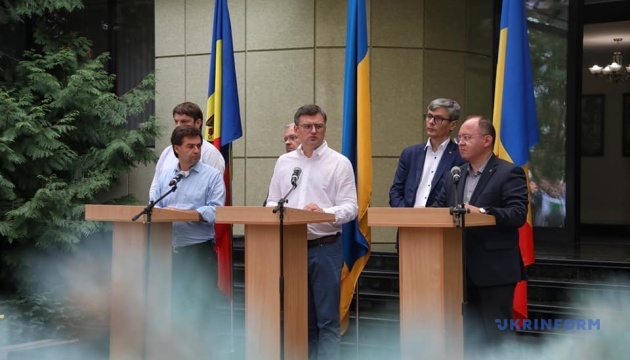 According to the communique, the ministers, in particular, condemned in the strongest possible terms Russia's continued aggression against Ukraine; committed to join their diplomatic efforts to stand with the Ukrainian government and the Ukrainian people in their heroic struggle to liberate Ukrainian territories occupied by Russia and restore security and stability in the region; reaffirmed their willingness to closely work together in support of the European integration process of Ukraine and the Republic of Moldova.
"Today we reached several important agreements for the development of our relations in the energy sector, our teams will further work on their implementation. In particular, we agreed to sign a tripartite intergovernmental agreement on increasing cross-border throughput to boost electricity trade," Kuleba said.
Minister of Foreign Affairs of the Republic of Moldova Nicu Popescu emphasized that "in the conditions of real challenges and dangers for our three states, solidarity and deepening of cooperation in strategic areas are particularly important. And the presence of energy ministers at this meeting also confirms that we have the desire and opportunities for integration into the European Union, including in the field of energy."
The parties also strongly condemned the occupation of the Zaporizhzhia Nuclear Power Plant (ZNPP) by Russian troops, their numerous provocations and shellings that could cause a large-scale nuclear disaster in Europe. The ministers called on Moscow to immediately proceed to the demilitarization of the ZNPP site and its vicinity in order to allow the resumption of the activities of the Ukrainian authorities at the ZNPP, and pointed out the importance of the IAEA mission visit.
The ministers of three countries pointed out their interest in developing trilateral cooperation in all areas of mutual interest, first and foremost in deepening political dialogue and improving diversification of the energy supplies based on a balanced, transparent, non-discriminatory relationship ensuring a fair competition.
ol