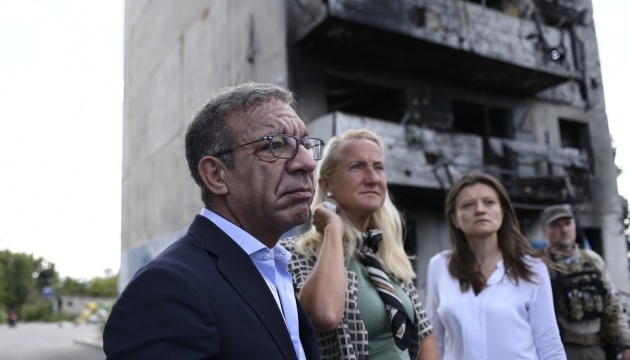 President of Inter-Parliamentary Union visits Kyiv region
As part of his visit to Ukraine, President of the Inter-Parliamentary Union Duarte Pacheco visited Andriivka village, Makariv and Borodianka urban-type settlements and Irpin town of Kyiv region to see the consequences of Russian aggression.
This was reported by an Ukrinform correspondent.
"I came here [Ukraine] a week before the Russian invasion of Ukraine. Then I noted that it is impossible to accept disrespect for borders recognized by the UN. Moreover, if there are any geopolitical and other perspectives in someone's mind regarding some territories, then these should be resolved diplomatically, and not through military invasion... War can never be a solution to any differences that may exist between countries and nations," said Pacheco.
He emphasized that after the start of the war, the Inter-Parliamentary Union adopted a statement strongly condemning the Russian invasion of Ukraine, thereby expressing solidarity with the people of Ukraine.
iy