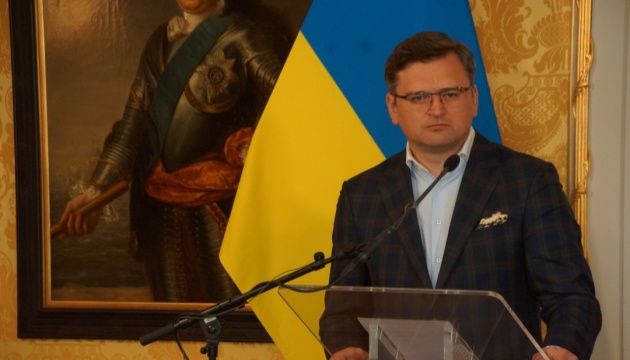 Kuleba to visit Sweden, Czech Republic to talk tougher Russia sanctions
On August 29-31, Minister for Foreign Affairs of Ukraine Dmytro Kuleba will visit Sweden and the Czech Republic to discuss increasing sanctions pressure on Russia.
This is reported by Ukrinform with reference to the Government portal.
"At the behest of the President of Ukraine, Volodymyr Zelensky, Minister for Foreign Affairs Dmytro Kuleba will visit the Kingdom of Sweden (August 29) and the Czech Republic (August 30-31) with the aim of consolidating international support for Ukraine and increasing sanctions pressure on Russia," the statement reads.
Kuleba will be received by Swedish Prime Minister Magdalena Andersson in Stockholm. He will also hold talks with the Minister of Foreign Affairs Ann Linde, meet with the leadership of the Swedish Parliament (Riksdag), and political parties.
"The main topics of the negotiations will be countering Russian aggression, as well as further military, financial and humanitarian support for Ukraine, the path to our country's membership in the EU, and the reconstruction of Ukraine," the statement says.
In Prague, Kuleba will take part in an informal meeting of EU foreign ministers, the key topics of which will be visa restrictions for Russian citizens and the eighth EU sanctions package targeting Russia.
The minister will separately hold a number of bilateral meetings with counterparts from the Czech Republic, France, Germany, the Netherlands, Belgium, Georgia, Moldova, and Cyprus. He will also participate in the Forum 2000 International Conference.
In addition, the head of the Ministry of Foreign Affairs of Ukraine will hold bilateral meetings with Czech high-ranking officials: head of the Senate Milos Vystrchyl and head of the Chamber of Deputies Marketa Pekarova Adamova.
As reported, during an informal meeting in Prague, the ministers of foreign affairs and ministers of defense of the EU member states will consider the issue of reviewing visa policies in relation to citizens of the Russian Federation, as well as the possibility of deploying a training mission for the Ukrainian military.
Photo: AA