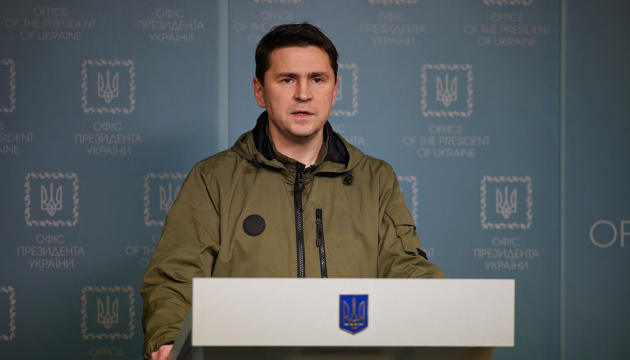 Ukraine's independence contradicts Putin's world view – Podolyak
Russian President Putin wants to restore the Soviet Union and, thus, Ukraine's independence contradicts his world view.
The relevant statement was made by Advisor to the Head of the Office of the President of Ukraine Mykhailo Podolyak in an interview with the Finnish publication, Helsingin Sanomat, an Ukrinform correspondent reports, referring to the Office of the President of Ukraine.
"Putin's plan is simple. He wants to restore the Soviet Union in one form or another. Ukraine here is his main enemy," Podolyak told, adding that Ukraine's independence contradicts the world view of the representatives of Russia.
According to Podolyak, when Ukraine reaches its internationally recognized borders, then Russia will be ready to sit down at a negotiating table and sign a peace treaty.
Podolyak noted that, both at the beginning of the war and now, there is no possibility of holding talks with Russia, which speaks the language of ultimatums and puts forward unacceptable demands. Meanwhile, calls for peace talks, which sometimes come from certain European capitals, are based on the assumptions that proved to be false back in 2008 and 2014.
"If Russia is allowed to win the war, it will be able to dictate its terms to Europe. This leads to the advance of Russia to Moldova, Georgia, Northern Kazakhstan or the Baltic states. Russia will begin to manipulate the internal politics of the European Union, provoking extreme left and extreme right forces. A chain reaction will begin in the world when other authoritarian states realize that they can achieve their goal with the help of an aggressive war," Podolyak stressed.
Nevertheless, in his opinion, the war between Russia and Ukraine will still end at the negotiating table, but only after Russia suffers significant losses on the front.
"Russia is really ready for peace only if it has suffered significant tactical losses. Then it stops giving ultimatums and is forced to listen to the arguments of others. When Ukraine reaches the borders defined in 1991, then Russia will be ready to sit down at the negotiating table and sign a peace treaty. This is the only chance to guarantee the liberal values and freedom of Europe," Podolyak emphasized.
In his words, the defeat of Russia will also give freedom of choice to Belarus, which can become a real European democracy.
Podolyak added that Ukraine holds talks with Russia regarding prisoners and other tactical issues only.
"We are also talking about the defenders of Azovstal, but we are making very slow progress, because Russia wants to get as much propaganda benefit from them as possible. The Red Cross and the UN are weak in this. They should become more active," Podolyak noted.
According to Podolyak, Russia has crossed all permissible limits in the war in Ukraine and must be held accountable for its crimes. Otherwise, the entire European security system will lose its authority.
Ukraine has managed to slow Russia's advance in the east, although Russian troops launch 40,000-50,000 strikes from assorted artillery every day, Podolyak added.
"The war has entered the fourth stage. Russia brought as many pieces of equipment and people as possible to Ukraine. They are waging an artillery war that they want to continue until winter," Podolyak said.
In his words, Russia is making attempts to exhaust Europe with a shortage of energy resources to make it tired of helping Ukraine in this war.
Meanwhile, Ukraine's counteroffensive in the south is moving forward.
"We are trying to effectively destroy the logistics and command positions of the Russians. Our goal is to complicate their supply and force them to retreat before the onset of winter," Podolyak explained.
In order to gain an advantage on the battlefield, Ukraine needs modern weapons, in particular air defense systems, for which Ukrainian authorities turn to foreign governments.
"The anti-missile potential is very important, because Russia attacks residential areas with cruise missiles," Podolyak said.
In addition to weapons, assistance is needed for the Ukrainian economy, which Russia attempts to destroy, opening fire on factories, ports and agricultural enterprises.
mk