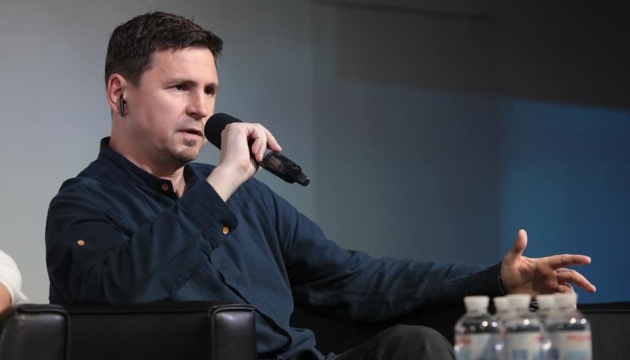 Russia wants to create 'reputation crisis' for Ukraine to disrupt arms supplies – Podolyak
In the information space, Russia is making efforts to create a 'reputation crisis' for Ukraine in order to reduce the volume of arms supplies provided by Western countries.
The relevant statement was made by Advisor to the Head of the Office of the President of Ukraine Mykhailo Podolyak during an event jointly held by Ukraine Media Center and UnitCity for the media professionals, an Ukrinform correspondent reports.
According to Podolyak, during the first two-three months of the full-scale invasion, Russians acted very straightforwardly via their own structures, but now they have changed their approach.
"Now they [Russians – Ed.] have slightly changed their tactics. They are starting to work more subtly, cunningly. They are throwing out topics not directly from themselves – they used to do so via Sputnik, RT, etc., and today they are working with foreign journalists pretty well via different organizations. Hence, in my opinion, if the war becomes protracted – and now we are entering this phase – if it becomes protracted, they will act much more subtle. Their key objective will be to ensure a reputation crisis for Ukraine, so that we are viewed as a state, which is unable to meet obligations, in order to reduce a flow of arms that we are expected to receive," Podolyak told.
In his words, Russia also wants to influence the Western political elites, so that the military and industrial complexes of Western countries do not start to manufacture additional arms volumes.
A reminder that, on February 24, 2022, Russia started a full-scale invasion of Ukraine. Russian troops are shelling and destroying the key infrastructure facilities, massively opening fire on the residential areas of Ukrainian cities and villages with artillery, multiple launch rocket systems, air bombs and ballistic missiles.
mk