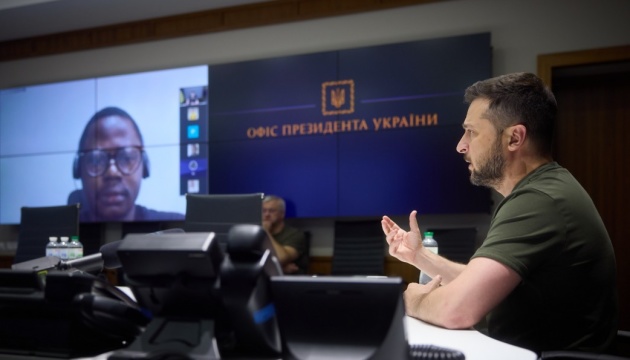 Zelensky calls on African countries not to have neutral stance on Russia's war against Ukraine
The whole world, in particular the countries of the African continent, cannot take a neutral position regarding Russia's war against Ukraine, as Russian aggression will have consequences for them as well.
"I don't think there should be neutrality in war. This is the wrong attitude. There can be no neutrality between life and death. When you are neutral in the war, you immediately turn from even a large state into a small one. No one sees you, the world does not see you, and therefore you do not influence the processes in the world. And when you have problems, you have to remember that the world can also be neutral. And it's not about business - it's about people's lives. I believe that the position of neutrality is not modern," Volodymyr Zelensky said during an online meeting with African journalists, the press service of the Head of State informs.
According to the President, if a country does not have enough economic or political weight to influence the Russian Federation and force it to stop the war, then it is necessary to condemn death, autocracy, racism, Nazism and "rashism", to condemn aggression at least at the level of diplomacy.
Zelensky is also convinced that the world should have paid more attention to what is happening in some countries of the African continent, which have also experienced wars and tragedies.
"There is no war, which is far away. This is the injustice of the security structure of the whole world, which needs to be changed. International institutions need to be changed to make them work. Today, when we talk about security guarantees for Ukraine, we act as a living yet tragic example that can later be extended to other continents and other states," he said.
On February 24, 2022, Russia launched an unprovoked war against Ukraine. As a result of Russia's invasion, Ukrainian ports and the export of more than 20 million tonnes of grain, which were intended, inter alia, to the most vulnerable countries within the framework of the UN World Food Programme, were blocked.
ol