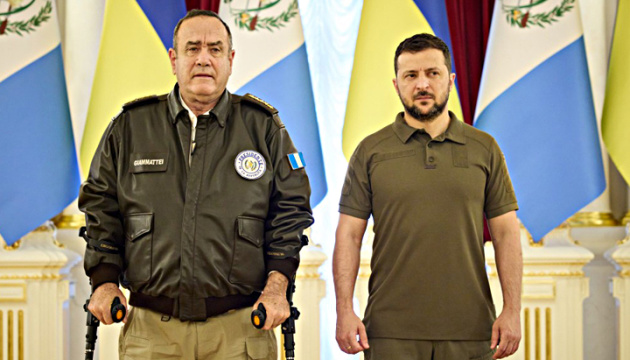 Guatemala ready to join creation of special tribunal for Russia - Zelensky
Ukraine and Guatemala have agreed to unite efforts on international platforms to further isolate Russia and increase the price for Russia for the war it started.
Ukrainian President Volodymyr Zelensky said this at a joint briefing with his Guatemalan counterpart Alejandro Giammattei in Kyiv on Monday, according to an Ukrinform correspondent.
"Today, we agreed to continue to join our efforts on international platforms with the aim of further isolating Russia and increasing the price for this war and destabilization of lives of peoples," Zelensky said.
He said that serious consequences of Russian aggression are being felt everywhere in the world. "This is a food crisis and price destabilization everywhere, both in energy markets, and extraordinary political challenges to the entire international legal order. The cost of living is unfairly growing for citizens of dozens of countries, including in Latin America, just because one country - the Russian Federation - decided to break existing political and economic relations in the world," Zelensky said.
He thanked Guatemala for its clear and consistent support to Ukraine and for its unchanging position on the protection of human rights and the fundamental right of every nation to freedom and independence.
Zelensky also thanked Guatemala for supporting the sanctions policy against Russia.
According to him, Guatemala is ready to join the initiative of creating a special tribunal to punish Russia for the crime of aggression against the people of Ukraine.
Zelensky added that an intergovernmental agreement on the mutual cancellation of visa requirements had been signed. According to him, a trade and economic dialogue has also been launched for the implementation of a number of specific projects.
Giammattei is visiting Ukraine on July 25. He has already been to Borodianka, Bucha and Irpin in the Kyiv region.