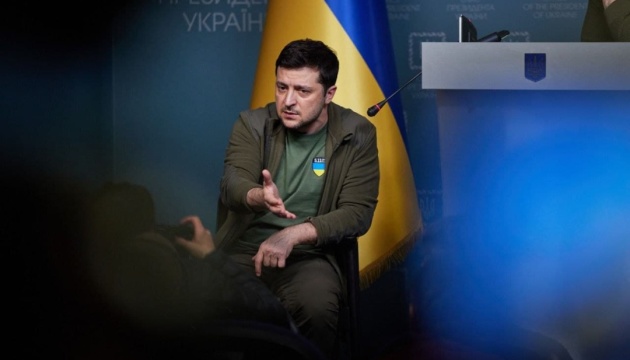 Zelensky on Russia: This is an evil that can only be "appeased" on a battlefield
Russian invasion forces continue to shell Ukrainian cities, which proves that Russia is an evil that can be stopped only on a battlefield.
That's according to Ukrainian President Volodymyr Zelensky, who spoke in a video address to the nation, seen by Ukrinform.
"As I predicted, Russia is very nervous about our activity. Again shelling of Kharkiv, Odesa, again attempts of brutal offensive actions in Donbas. This is an evil that can only be appeased on the battlefield. We are defending Lysychansk and Severodonetsk. This whole region is the most difficult, there are the hardest battles," said the president.
He stressed that the whole region is the most difficult area at the moment as hard battles are ongoing in the area.
"But our strong boys and girls are there. The occupiers receive responses to their actions against us. I am grateful to the army and intelligence that provide it," the head of state noted.
Separately, Zelensky said that Ukraine was moving toward the main decision by the European Council, which is expected to be approved in Brussels on Friday as the Council will consider Ukraine's application for EU membership and decide on granting the country a candidate status.
"The next days of the week will also be busy. We are moving towards the main decision of the European Council, which will be adopted on Friday," Zelensky said. "Step by step, we are going through a crucial week and we are doing everything every day so that no one has any doubts that Ukraine deserves the candidacy. We prove every day that we are already part of a united European, I would even say, value space."