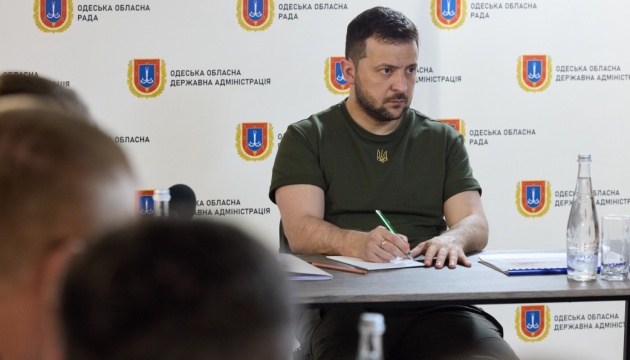 Zelensky discusses with Odesa authorities grain export corridor, region's defense
President of Ukraine Volodymyr Zelensky on Saturday held a meeting with local authorities in Odesa to discuss measures for the region's defense and the ways to set up a safe corridor for the exports of Ukrainian grains.
That's according to the press service of the President's Office, Ukrinform reports.
During a working trip to the Odesa region, President of Ukraine Volodymyr Zelenskyy held a meeting on the current situation in the region.
Local administration chief Maksym Marchenko informed the participants in the meeting of the measures to defend the region.
"The parties also discussed ways to organize a corridor for the export of agro-industrial products from the ports of the Odesa region. According to Maksym Marchenko, due to Russian aggression, 39 civilian ships under the flags of 14 countries are blocked in the ports of the region," the report reads.
The participants also talked through the issues of harvesting across the region and measures to provide farmers with agricultural machinery.
"The parties touched upon the issue of the social security of internally displaced persons living in the Odesa region," the report says.
The president was briefed on the consequences of Russian missile strikes on Odesa region, which killed 55 local residents and destroyed a number of infrastructure facilities.
In addition, the issues of operation of industrial enterprises amid Russian aggression were discussed.
Ukrainian Navy Commander Oleksiy Neizhpapa reported on the security situation in the Black Sea.
The Head of State also visited a site where an apartment building had been hit by a Russian missile on April 23. Eight people were killed, including a three-month-old infant. Zelensky was briefed on the progress of restoration efforts.
"This is a terrible, heinous crime, the aggressor kills and maims our people. We need to restore this building so that the residents can return home," the president said.