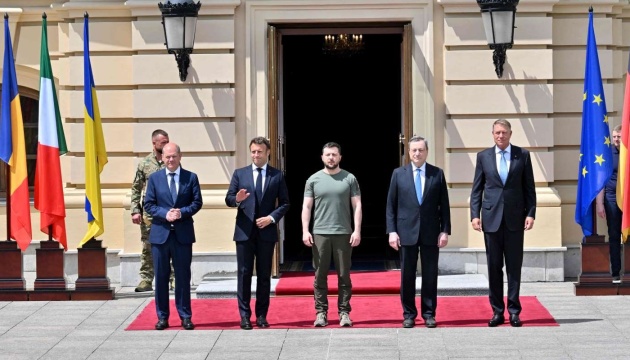 FM Kuleba outlines five results of today's talks between Zelensky and European leaders
Minister of Foreign Affairs of Ukraine Dmytro Kuleba outlined five results of President Volodymyr Zelensky's talks with the leaders of France, Romania, Germany, and Italy.
First, the guests received full packages of elaborations by Yermak–McFaul Group on further sanctions. "The guests acknowledged that some leaders in Europe feel 'tired of sanctions', but personally they are ready to move on. There will be new sanctions," the minister posted on Facebook.
The second result concerns weapons. According to the minister, there were some new useful announcements during the talks, and President Zelensky explained in figures why more weapons and more often are needed. "The guests heard that," Kuleba stressed.
Speaking about Ukraine's aspirations to become a candidate for EU membership, Kuleba noted that compared to the beginning of the week, today Ukraine is closer to obtaining such status.
"Many thanks to the guests. But not all obstacles have been overcome, not all traps have been got around. The decision is made by consensus, so we all continue to work calmly, focused on the result," the foreign minister wrote.
Another result, according to Kuleba, is that all the guests agreed that Russia could not be trusted in the issue of grain exports. "We need to work through the UN and have clear guarantees. In parallel, we will significantly develop land corridors. The issue of grain is directly related to the perception of our war in Africa, Asia, and Latin America. Actions on this track were also coordinated," Ukraine's top diplomat added.
Finally, the minister emphasized that the guests did not coerce, persuade, or put pressure during the talks. Kuleba summed up by quoting Macron as saying: "Ukraine must win this war."
As reported, on June 16, President of France Emmanuel Macron, German Chancellor Olaf Scholz, Prime Minister of Italy Mario Draghi, and President of Romania Klaus Iohannis arrived in Ukraine.
Zelensky discussed with European leaders the steps to strengthen Ukraine's defense, European integration, sanctions against Russia and prevention of a food crisis.
ol