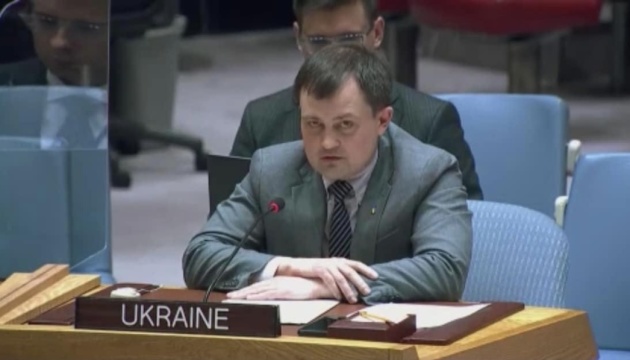 Ukraine at UN Security Council: The final accord of the war will be tribunal for Putin, Shoigu and Lavrov
About 100 days of courageous resistance by the Armed Forces of Ukraine and the Ukrainian people have clearly shown that the war will end in Russia's defeat.
The relevant statement was made by the Ukrainian delegation, represented by Counsellor of the Permanent Mission of Ukraine to the UN Serhii Dvornyk, at the open debate of the United Nations Security Council on strengthening responsibility and punishment for serious violations of international law, an Ukrinform correspondent reports.
In his words, Ukraine has been supportive of the idea to create a special criminal tribunal for the punishment of the crime of aggression against Ukraine.
"Such a tribunal will be the final accord of the war for Putin, Shoigu, Gerasimov, Lavrov and other Russian war criminals. After 100 days of courageous resistance of the Armed Forces and the entire Ukrainian people, it is clear that this unprovoked and unjustified aggressive war will end in Russia's defeat. A defeat that will be a victory for the whole civilized world," Dvornyk said.
In his words, 1,200 bodies of killed civilians were discovered in Kyiv Region alone after the Russian army retreated. The number of civilian casualties in Mariupol can be counted only after the deoccupation of the city.
"However, it is clear that tens of thousands of people have been killed," Dvornyk added.
According to Dvornyk, about 200-300 war crimes are committed in Ukraine daily, and their total number since the beginning of the invasion has exceeded 15,000.
Ukraine is calling on all partners to join the efforts to ensure justice in the framework of the Joint Investigation Team for the Investigation of War Crimes of the Russian Federation, which also includes Eurojust and the Office of the Prosecutor of the International Criminal Court.
Dvornyk noted that investigators had already registered 1,042 criminal proceedings for crimes committed against children during the invasion. At least 261 children were killed, 460 injured and 145 went missing. The identities of 11 Russian servicemen suspected of child abuse have already been established, Dvornyk stressed.
Dvornyk also emphasized that Ukraine will continue to fight for the safe and quick return of more than 230,000 Ukrainian children forcibly deported to Russia.
mk