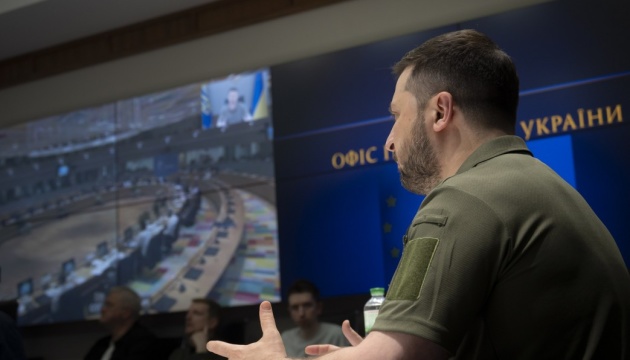 President Zelensky: There can be no compromises at the expense of Ukraine's sovereignty
Sanctions against Russia must be as effective as to make the Russian side begin to seek peace, and there can be no compromise at the expense of Ukraine's territorial integrity and sovereignty.
The relevant statement was made by Ukrainian President Volodymyr Zelensky in his video address to the European Council, an Ukrinform correspondent reports.
Zelensky noted that today is the 96th day of Russia's full-scale war against Ukraine, "against all of us and against all of you; against European unity".
"Russia wants to see at such meetings not a united European Council that we see now, not a united European Union, but 27 separate states, 27 fragments that cannot be put together. This is their wish," the President of Ukraine said.
In his words, this policy of the aggressor is consistent, and there is no delay in it.
"Unlike Europe, Russia does not need to hold such summits and seek compromises for weeks. By the way, I want to thank you for talking about these compromises, for striving to find help and support for Ukraine. So, they are not ready to compromise, choosing what to do to achieve their goals," Zelensky noted.
According to Zelensky, now we see how the Russian offensive in Donbas is destroying Ukrainian cities, destroying the communities of Ukraine, and at the same time how the European unity, the desired European unity may falter.
"On April 8, the 44th day of the war, the EU's fifth sanctions package was imposed. And 52 days have passed since then. What happened during this period? At that time, as of April 8, there were 169 children on the list of those killed by the Russian occupiers in Ukraine. As of today, 243 children are on the list. At that time, as of April 8, 928 educational institutions were destroyed. Kindergartens, schools, universities. As of today – 1888," Zelensky told.
According to the available data, Russia has already launched about 1,600 missile strikes on Ukraine.
"Russia has used more than 2,400, almost 2,500 different missiles against us, against the civilian population. And then, as of April 8, there were less than a thousand strikes and they used about a thousand missiles. This is the progress of their aggression," Zelensky stressed.
The President of Ukraine expressed confidence that it is only the Russian state that is to blame for everything that is happening.
"But, I am convinced that it is obvious to each and every one of you that there should be progress in sanctions for this aggression. And for us it is crucial. And it will help us a lot! The progress that makes Russia begin to seek peace. And only this can be our common demand. Peace. There can be no compromises at the expense of our territorial integrity, our sovereignty!" Zelensky emphasized.
The President of Ukraine thanked everyone who promotes the sixth sanctions package and tries to make it effective.
"However, unfortunately, for some reason it is not there yet. And why do you depend on Russia, on their pressure, not vice versa? Russia must depend on you. Why can Russia still earn almost a billion euros a day by selling energy resources? Why are banks of a terrorist state still working with Europe and the global financial system? Serious questions. And why are Russian propaganda channels still active in the European Union? This is an information weapon of the Russian Federation. Why are Russian civil servants who support the war and judges who openly support repression still not under sanctions?" Zelensky noted.
In his words, each of these important questions is not just about sanctions packages or the war in Ukraine but about Europe itself.
A reminder that a two-day special meeting of the European Council started in Brussels on May 30, 2022. The European Council will discuss further political, financial and humanitarian support for Ukraine in the war unleashed by Russia, as well as energy and global food security challenges related to this war.
mk