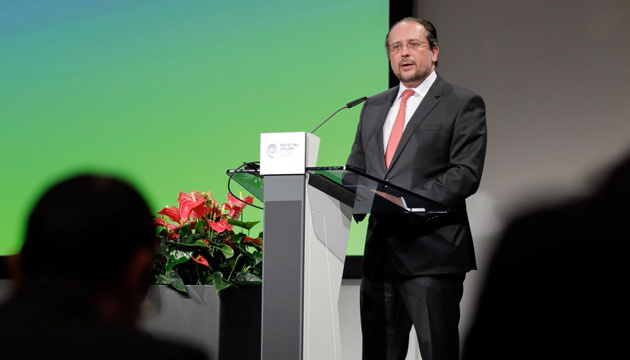 Austrian FM stands for Ukraine's "gradual integration" into EU
Austrian Foreign Minister Alexander Schallenberg has called for the "gradual integration" of Ukraine, as well as Georgia and the Western Balkans, into the European Union.
The top diplomat stated this in an interview with the German newspaper Die Welt, an Ukrinform correspondent reports.
"We are now awaiting the recommendation of the EU Commission, which is due in June. I fully understand the request of Ukrainian President Zelensky. We have to send a clear signal to Ukraine: the country is part of the European way of life and it is anchored in our community of values. We'll see how that happens. I doubt that candidate status is the only solution for Ukraine," Schallenberg said when asked if Ukraine could become a candidate for EU membership.
According to the Austrian minister, "the EU must be careful that the appointment as a candidate for EU accession does not remain just a label and that the population basically does not notice anything about it for years." This is also noticeable in the Western Balkans where the countries were promised accession in 2003. "You can feel how disillusioned and frustrated the people there are today," the minister said.
"We have to step up our game in the Western Balkans and get down to business. When we talk about Ukraine, we must also talk about the Western Balkans at the same time," said the Austrian Foreign Minister, adding: "One cannot rule out that Putin is also trying to destabilize the Western Balkans."
In this regard, he called for "gradual integration". We need gradual integration rather than all or nothing. We should leap over our shadow and involve the countries of the Western Balkans in decisions on factual issues in sub-areas if the legal requirements are met. For example in the research area, in energy issues, in trans-European transport planning, in cohesion policy or in certain sectors of the internal market," said the minister.
However, according to him, such "gradual integration" does not replace full membership in the EU: "Accession is mandatory."
According to Schallenberg, such "gradual integration" could be an option for Ukraine as well. "The 27 EU countries could consult with representatives of the Western Balkans or Ukraine, Moldova and Georgia for two or three hours before the start of regular meetings. So these countries could participate. They would be involved in specific questions, but the decisions are ultimately made by the EU states," the Minister explained the practical implementation of his idea.
At the same time, when asked whether Ukraine should eventually join the European Union as a country in the Western Balkans, he said: "In the case of Ukraine, the EU has made no promise of accession. Ukraine's accession to the EU – if it happens at all – would still be very, very far away anyway."
Earlier, Austrian Foreign Minister Alexander Schallenberg reportedly questioned the need to grant Ukraine full membership in the European Union.