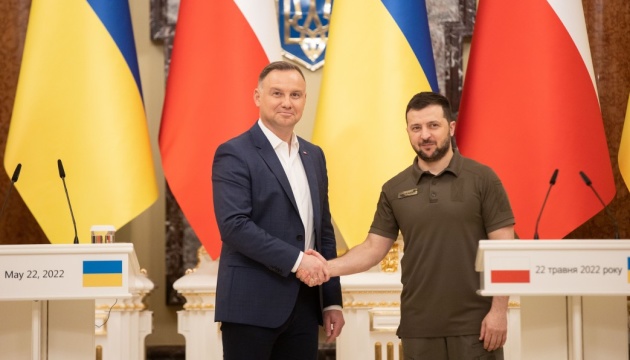 Zelensky supports Duda's initiative for new good-neighborly agreement
Ukrainian President Volodymyr Zelensky has expressed support for the initiative of Polish President Andrzej Duda to conclude a new good-neighborly agreement between Ukraine and Poland.
The relevant statement was made by Ukrainian President Volodymyr Zelensky during a meeting with the mass media representatives, following talks with Polish President Andrzej Duda in Kyiv, an Ukrinform correspondent reports, referring to the Office of the President of Ukraine.
"I do not want our nations to risk our relations. Relations with Poland today are one of the highest priorities for Ukraine. I am sure that they are now the most powerful in the history of our nations. And I really want us to have agreements not for the sake of agreements, but concrete, substantive ones that can only improve our lives, enhance the relations of our societies," Zelensky told.
The President of Ukraine is convinced that such a document should first be developed by experts, and then the presidents of the two states will move to the political part, namely the coordination of certain issues.
Duda noted that it would be symbolic to sign such an agreement between Ukraine and Poland before January 2023, when the 160th anniversary of the January Uprising will be marked, during which Poles and Ukrainians fought against the domination of the Russian Empire.
"It is difficult for me to say now whether we will be able to work out new decisions by this time, but I am sure of one thing: today we are in a completely different situation, and this situation creates a new picture. First of all, it creates a new perspective," Duda stressed.
The President of the Republic of Poland suggested that the leaders of the two countries, together with experts, prepare an agreement that would accelerate the implementation of new prospects and opportunities.
"It would be a big mistake if we did not use this chance," Duda added.
A reminder that, during his speech in the Verkhovna Rada of Ukraine, Polish President Andrzej Duda offered to sign a new good-neighborly agreement between Ukraine and Poland.
mk