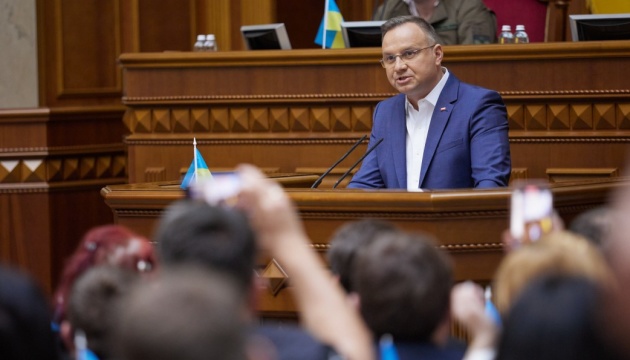 Poland's President: It's impossible to return to business as usual with Russia after Borodianka and Mariupol
After Borodianka and Mariupol, the world must not renew relations with Russia as if nothing had happened.
"We must not allow them to be empty sound. After Borodianka and Maripol, there must be no return to the policy of business as usual in relations with Russia," President of Poland Andrzej Duda said while delivering a speech in the Verkhovna Rada of Ukraine during his visit to Kyiv, an Ukrinform correspondent reports.
According to him, today it is not Ukraine but the Western world that takes the test on loyalty to the declared values.
"Today it is not you, but the world that takes the test on whether values mean something," Duda said, adding that it would have been a blow to the West if Ukraine had been sacrificed to the aggressor.
The President of the Republic of Poland stressed that time and the future would show whether such a foundation as democracy, human rights, and solidarity meant something to Europe.
"There are alarming voices that Ukraine must comply with Putin's demands. Only Ukraine has the right to decide its future: nothing about you without you," Duda said to applause.
He stressed that Poland supported and would continue to support Ukraine on its path to the Western community.
"I personally will not stop until Ukraine becomes a member of the EU. It is my dream as a president and an ordinary person so that we can build our future together," the Polish leader said.
During his speech, he thanked Ukrainians for their courage and love for freedom. He underscored that Ukraine had been fighting heroically against the aggressor for three months now, although many had estimated that it would have not withstood the aggressor's armed pressure for long.
Duda assured that Poland and the Polish people would stand side by side with the Ukrainians in the moment of trials and would help Ukraine.
Russia has been waging a large-scale war against Ukraine since February 24. On May 9, Zelensky said that Ukraine had filled out the second part of the questionnaire to obtain the status of a candidate country for accession to the European Union.
The President signed the application for Ukraine's membership in the European Union on February 28, 2022.
ol