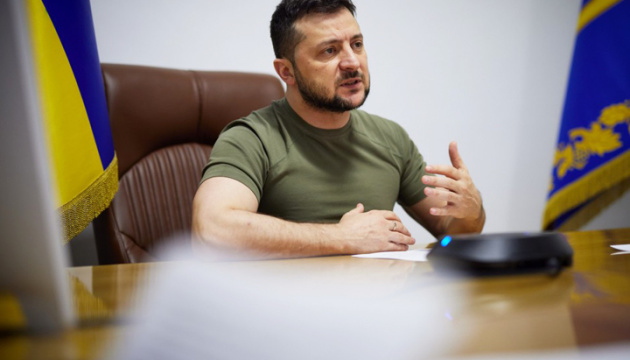 President Zelensky: In this war we are fighting for Ukraine's place in the world
In Russia's full-scale war against Ukraine, we are fighting for Ukraine's place in the world.
The relevant statement was made by Ukrainian President Volodymyr Zelensky in an interview on the third anniversary of his inauguration, an Ukrinform correspondent reports.
"For me, great world politics is, first of all, a place of Ukraine. At that time [three years ago – Ed.] I had no political and diplomatic experience. Today I understand where Ukraine's place is. I am honestly fighting for this place together with our people and Army. In this war, we are fighting not only for a place within our territories and our entire land but for a place in the world," Zelensky told.
In his words, the Ukrainian course is Ukraine's place among the equal. According to the President of Ukraine, a consistent policy to achieve the relevant objective continues despite the war. Zelensky expressed confidence that the result would be reflected in the European Union, defense unions and alliances, or among the security guarantors.
"We are following this path. Today, I even consider the Person of the Year title as one of the results of this policy. These are our people. They are the people of the year. All of this is a result of our unity," Zelensky stressed.
According to the President of Ukraine, all rewards, prizes, streets or squares named after him are addressed not to him but the Ukrainians defending the state at the front line.
A reminder that, on February 24, 2022, Russian President Vladimir Putin initiated a full-scale invasion of Ukraine, starting a war. Russian troops are shelling and destroying the key infrastructure facilities, launching missile and air strikes on Ukrainian cities and villages, torturing and murdering civilians.
Photo: Office of the President of Ukraine
mk