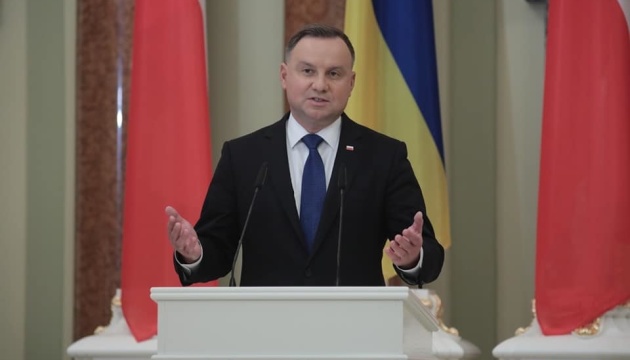 Duda hopes Ukraine will win war and return all territories
Russia's war against Ukraine should end with the return of all occupied territories to Kyiv.
Polish President Andrzej Duda said this in an interview with Polska Times, Ukrinform reports.
"I would like the war to end with the return of all territories within Ukraine's internationally recognized borders," Duda said.
He called it an extremely important issue for himself, for Poland's security and for the future.
"It would mean that in the political sense, Ukraine has won this war. I count on it a lot, I try to support [Ukraine] in all ways, because I believe that it is fair and it should be so," Duda said.
He added that he would like Ukraine to be able to rebuild the destroyed infrastructure. He said he was ready to help and make sure that Ukraine exists within its borders as "a large, thriving country, Poland's neighbor, friend and ally for the future."
Duda also noted that he has very good personal relations with Ukrainian President Volodymyr Zelensky.
"Volodymyr says I'm his friend. I also consider him my friend. We have a strong relationship that was built on exceptionally firm ground by this war," Duda said.
He stressed that he hoped to start a dialogue on solving complex historical problems between the Polish and Ukrainian peoples.
Russia has been waging a large-scale war against Ukraine since February 24.