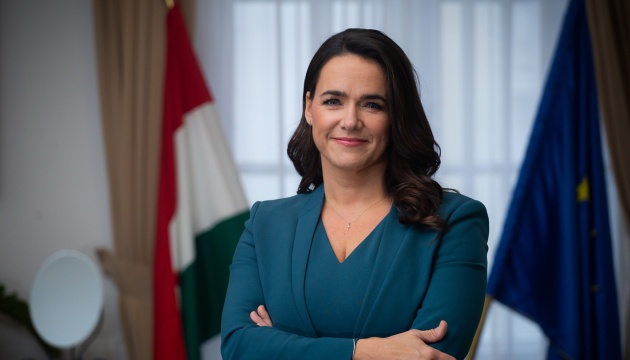 Budapest can become platform for Ukraine-Russia talks - President Novak
Hungary is not a neutral state in the light of Russian aggression in Ukraine, demanding that the crimes are investigated and perpetrators are held accountable, and supporting Ukraine's European integration. Also, Budapest is ready to mediate peace talks between Kyiv and Moscow.
This was stated by President of Hungary Katalin Novak during a joint press conference with President of Poland Andrzej Duda in Warsaw on Tuesday, an Ukrinform correspondent reports.
"This is not our war, but it is also being waged against Hungarians who love peace, who seek security, mutual respect, and prosperity. We demand the investigation of war crimes and the punishment of those responsible," Novak said.
According to the President, Hungarians are not neutral in the current situation.
"We side with innocent victims and the truth. We fulfill our commitments within the EU and NATO, and when we have to say 'no' to a decision as Hungary's interests require, we say 'no,'" she said.
Novak stressed that Hungary supports Ukraine's accession to the European community.
"We are ready to sacrifice for the sake of peace. But we do not agree with decisions that require Hungarians to make more sacrifices than the Russian aggressor will suffer," the Hungarian president said.
She said Budapest would "gladly take on the role of a mediator" between the warring parties in order to continue peace talks.
Novak also noted that Hungary, both now and in the future, would insist on Ukraine respecting the rights of the Hungarian national minority.
In turn, Duda noted that for the most part, the talks with Novak were devoted to the situation in Ukraine, as well as the need to adopt the sixth package of sanctions against Russia.
He said Hungary's dependence on Russian energy was significant. As a result, it is more difficult for Budapest to diversify its energy sources than it is for Poland. However, he expressed hope that "there will be an opportunity to reach an agreement, including with the Hungarian authorities, on the package of sanctions so that it can be implemented."
Katalin Novak, 44, was elected President of Hungary by the country's Parliament on May 10. In this position, an ally of Viktor Orban with the Fidesz party replaced Janos Ader, who held the post for two terms.
Hungary remains almost the only EU nation to oppose an embargo on Russian energy envisaged by the EU's sixth package of sanctions against Russia.