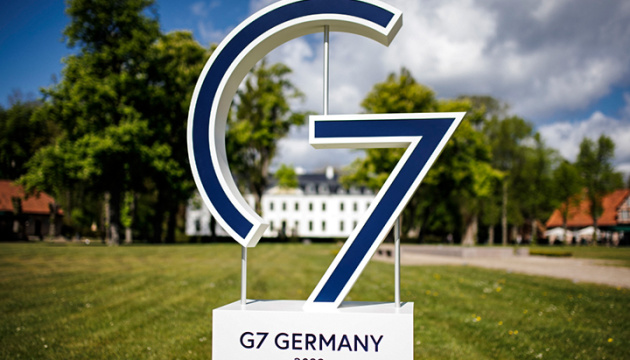 G7 to never recognize borders redrawn by Russia - statement
The Group of Seven has called on Russia to immediately withdraw its troops from the Ukrainian territory, vowing to never recognize any new borders, except for those internationally recognized, adding they will provide as many weapons as required to help the country defend its territory and sovereignty.
That's according to a joint statement by G7 foreign ministers, posted on the website of the Ministry of Foreign Affairs of Germany, which is presiding in the group at the moment.
"We will never recognize borders Russia has attempted to change by military aggression, and will uphold our engagement in the support of the sovereignty and territorial integrity of Ukraine, including Crimea," the statement reads.
G7 has also rejected any notion of spheres of influence and any use of force that is not in compliance with international law.
They condemn as "irresponsible" threats of use of chemical, biological or nuclear weapons or related materials by Russia and reiterate that any use of such weapons "would be met with severe consequences."
The Group of Seven is "steadfast in our solidarity with and our support for Ukraine as it defends itself against Russia's unjustifiable, unprovoked and illegal war of aggression, a war in which Belarus is complicit."
"We are committed to helping Ukraine, a democracy and a UN member, uphold its sovereignty and territorial integrity, to defend itself and resist future attacks or coercion, choose its own future and prosper," reads the statement.
"We underscore Ukraine's sovereignty, territorial integrity, independence and right for self-defence under the UN Charter," G7 said. "This war of aggression has reaffirmed our determination to reject outright attempts to redraw borders by force in violation of sovereignty and territorial integrity."
It is noted that the Group is providing significant humanitarian assistance to Ukraine and its neighbors to meet urgent protection and other lifesaving needs, also continuing to make substantial financial and economic support available to Ukraine to strengthen the resilience of its economy.
"We reaffirm our commitment to support Ukraine, including in the reconstruction of the country, and call on all partners to join our efforts to ensure support for Ukraine in meeting its immediate humanitarian and financial needs and for Ukraine to rebuild its future. We will pursue our ongoing military and defense assistance to Ukraine as long as necessary," reads the statement.
The foreign ministers reiterate their demand that Russia put an end to the war it started unprovoked and to end the tragic suffering and loss of life it continues to cause. We also continue to call on Belarus to stop enabling Russia's aggression and to abide by its international obligations.
They urge full compliance with international humanitarian law, allowing and facilitating rapid, safe and unimpeded humanitarian access as well as the humanitarian evacuation of civilians safeguarding evacuees' freedom to choose their destination.
"We call on Russia to immediately comply with the legally binding order of the International Court of Justice of 16 March 2022 and to abide by the relevant resolutions of the UN General Assembly and stop its military aggression – to cease fire, and immediately and unconditionally withdraw its troops from the entire territory of Ukraine within its internationally recognised borders," the statement reads.
The ministers have also called on Belarus to stop "enabling Russian aggression."
The signatories separately focus on the food crisis caused by the blocking of Ukrainian agricultural exports by Russia.
They underscore that the sanctions and export controls against Russia do not and will not target essential exports of food and agricultural inputs to developing countries, while those targeting Russian elite and those aiming to weaken Russia's military might will only be strengthening.
The ministers have agreed to jointly address Russia's policy of manipulating information and meddling, including disinformation, which Russia applies to justify and promote its war of invasion against Ukraine and which aims to manipulate public opinion within the country and around the world.
Foreign Minister of Ukraine Dmytro Kuleba also took part in the G7 foreign ministerial in Germany's Lubeck.