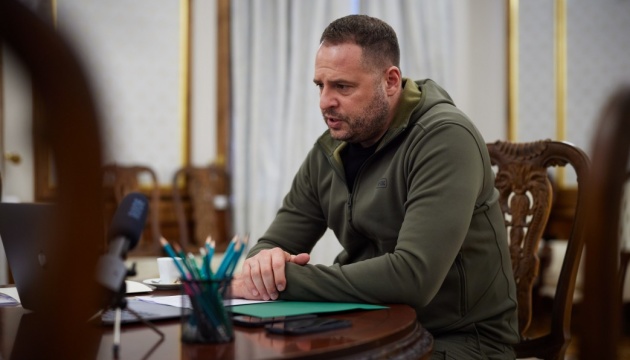 Yermak: Russia has earned over $ 65B selling energy during war
The international expert group actively works to assess the current sanctions against Russia and offers new ones.
Head of the President's Office Andriy Yermak said this in an interview with CNN, the press service of the President's Office informs.
According to Yermak, the international expert group headed by him and former US National Security Adviser Michael McFaul has prepared a document containing recommendations on actions in the energy sector.
This is a complete embargo on Russia's energy resources, especially oil. He noted that since the beginning of the full-scale war, Russia, according to official figures, has received more than $ 65 billion from energy sales.
"It feeds Russia's military machine and allows the war against Ukraine to be continued," Yermak stressed.
He also noted that the situation on the frontline is still difficult, but the Ukrainian military is succeeding in a counteroffensive the Kharkiv direction. The situation in Mariupol remains catastrophic, where thousands of people are blocked by Russian troops.
"Our servicemen at Azovstal are blocked and are under constant massive bombardment by Russian forces. We use all our opportunities, we negotiate with many world leaders to save our people. This is very important for us. And President Zelenskyy is personally working 24/7 on this issue," he said.
The Head of the President's Office thanked the UN for its efforts to evacuate civilians from the Azovstal plant.
Yermak also stressed the need to increase sanctions on Russia in order to encourage it to reach a peaceful settlement.
"If this terrible war continues and every day Russia kills Ukrainians and destroys cities, it will show that the existing sanctions are not enough," he stressed.
Answering the question about Finland's plans to join NATO under the fast-track procedure, while Ukraine has been trying unsuccessfully for a long time to join the Alliance, Andriy Yermak said: "We believe that this situation is a test for the Alliance. We are very happy for our friends in Finland - in fact, it is a logical step. At the same time, it demonstrates NATO's double standards, as the whole world has seen that Ukraine has long ago decided to join the Alliance, but we still do not have any concrete answer. Now our courageous and heroic nation has shown that Ukraine's participation and membership in NATO would strengthen this organization."
The Head of the Office of the President stressed that Ukrainians have shown that one can have no fear and fight against one of the largest armies in the world.
Commenting on Russian President Vladimir Putin's statements that Russian troops have been sent to Ukraine to fight the Nazis, Andriy Yermak said that the Russian-speaking cities of Kharkiv and Mariupol had suffered the most damage from Russia. Russia also struck at Uman and Babyn Yar, which are important to the Jewish people.
"Everything it does (Russia - ed.) in Ukraine is directed against Ukrainians. We are grateful to the parliaments of the world who are already recognizing this war as genocide. The picture from Bucha, Irpin and Mariupol gives a clear answer as to who is continuing the Nazi practices of World War II and who is defending native land and country. And we will fight until we achieve victory," Yermak stressed.
Yermak said earlier that the sanctions plan against Russia had been implemented by 30%.
ol