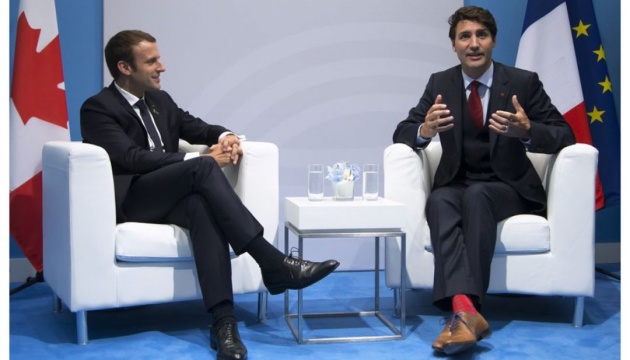 France, Canada to keep coordinating efforts in support of Ukraine
France and Canada will continue to coordinate efforts to support Ukraine.
That's according to a statement by the Elysee Palace following President Emmanuel Macron's phone call with Canadian Prime Minister Justin Trudeau, Ukrinform reports.
The two leaders' exchange mainly focused on Russian aggression in Ukraine, the statement reads.
"They stressed their commitment to the close coordination between G7 partners and allies that has prevailed since the start of the conflict, in order to support Ukraine militarily, politically, economically and on a humanitarian level, as well as to increase the cost of the war for Russia via unprecedented sanctions," the two leaders agreed.
"France and Canada will continue to intensify their support for Ukraine," reads the statement.
The Prime Minister of Canada also expressed his wish to contribute to the FARM initiative proposed by France, aimed at providing a united and coordinated response to the effects of the war in Ukraine on world food security.