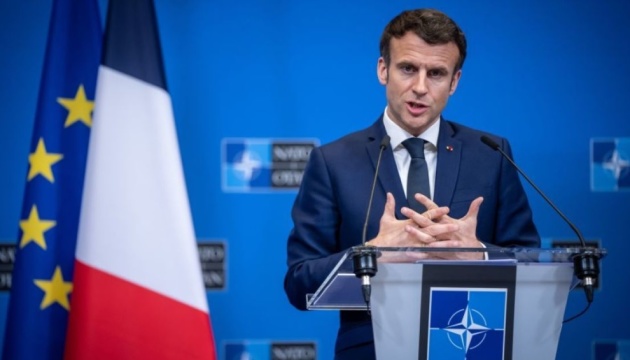 Macron warns Ukraine's EU accession could take years, proposes new European community
French President Emmanuel Macron says Ukraine is already a member of the European family and proposes to set up a "European political community" that would allow countries outside the European Union to join Europe.
As France is currently presiding over the Council of the European Union, President Macron stressed this at the closing ceremony of the Conference on the Future of Europe at the European Parliament in Strasbourg, an Ukrinform correspondent reports.
"Ukraine, with its fight and courage, is already by heart a member of our Europe, our family, our union," Macron said.
However, the French president warns, even if Ukraine is given the candidate status very quickly, this process of joining the EU will take several years, maybe decades, "unless we decide to lower the standards of this membership and therefore to completely rethink the unity of our Europe, and sometimes the principles in the name of which we are demanding to some of our own members," he said.
Emmanuel Macron stressed that "the European Union, given its level of integration and ambition, cannot in the short term be the only means of structuring the European continent."
At the same time, he is looking into ways to organize Europe politically and more broadly than the European Union.
To this end, Macron sees the prospect of creating a new "European Political Community", in particular, to welcome Ukraine, during its EU accession process, which may take "decades."
"This new European organization would allow democratic European nations that adhere to our core values to find a new space for political cooperation, security, energy cooperation, transport, investment, infrastructure, and movement of people," Macron said, adding that joining the new organization would not guarantee future EU membership.
"We must unite our Europe in its true geography with the desire to preserve the unity of our continent," Macron concluded.
As reported, on April 18, President Volodymyr Zelensky handed over the completed first part of the questionnaire for obtaining EU candidate status to Head of the European Union Delegation Matti Maasikas. This questionnaire was handed over to the Ukrainian side personally by President of the European Commission Ursula von der Leyen during her visit to Kyiv on April 8.
President Zelensky signed the application for Ukraine's membership in the European Union on February 28, 2022.