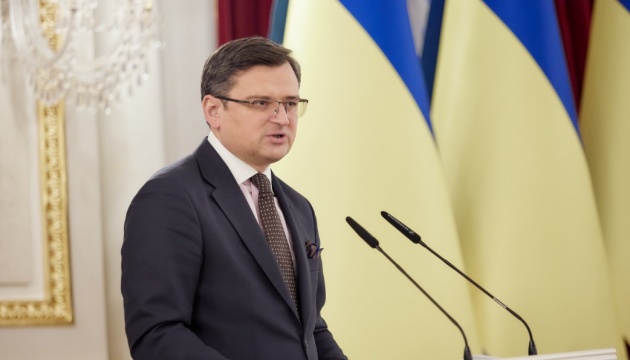 Talks with guarantors of Ukraine's security in active phase, says Kuleba
Negotiations with the nations ready to become Ukraine's security guarantors are now in an active phase, and a significant part of the guarantees is already being implemented in the form of armaments and our country's shift to NATO standards.
This was stated by Ukrainian Foreign Minister Dmytro Kuleba at a joint briefing with the Baltic foreign ministers in Kyiv, an Ukrinform correspondent reports.
The foreign minister noted that intensive consultations are currently underway with partners on security guarantees for Ukraine. Head of the Office of the President of Ukraine Andriy Yermak is doing a lot of work in the field of national security advisers to the heads of state and government, while Kuleba himself is negotiating along the track of foreign ministries.
"We are all working with one goal – to get to the package of security guarantees that our partners can provide to us as soon as possible. Negotiations are in their active phase. I shall not reveal any details, but we really see the support of our partners not only in words but also in deeds," Kuleba said.
He added that, while the parties are discussing how to fixate agreements on paper, a significant part of the guarantees is already being provided and implemented in the form of providing Ukraine with the required weapons, bringing the Ukrainian army closer to NATO standards, imposing sanctions on Russia and more.
"But this is only part of the potential guarantees, so we are working on the rest of them," the Ukrainian foreign minister assured.
As reported, Head of the President's Office Andriy Yermak named seven nations that had agreed to become guarantors of Ukraine's security. These are the U.S., Great Britain, France, Germany, Turkey, Poland, and Italy.
Earlier, Foreign Minister Dmytro Kuleba said in an interview with China's Xinhua news agency that Ukraine was exploring the option of sealing security guarantees from permanent members of the UN Security Council and other major powers, including China, and had already offered the latter to become one of the guarantors.
President Volodymyr Zelenskyy said on April 28 that after the Budapest Memorandum proved ineffective, Ukraine seeks to develop a fundamental document on guarantees of the country's security, which would provide maximum, real protection. The head of state said that the draft document is currently being prepared at the level of security advisers to the leaders of countries.