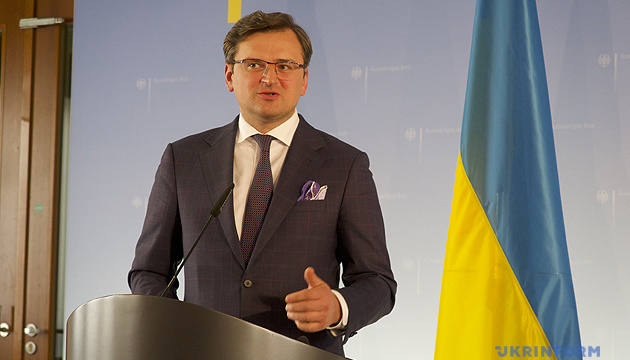 Kuleba says EU's idea of ​​postponing Russian oil embargo for certain countries "wrong"
Minister for Foreign Affairs of Ukraine Dmytro Kuleba considers a mistake the European Union's idea to postpone the embargo on Russian oil imports for some countries.
Kuleba stated this at a joint briefing with the Baltic foreign ministers in Kyiv on Friday, an Ukrinform correspondent reports.
The top diplomat noted that the key issue of the sixth package of sanctions against Russia is the introduction of an oil embargo, as some countries either stand against it or want to be freed from imposing it for as long as possible.
"The very position of postponing the oil embargo until the end of 2023 or 2024 is wrong. First, you don't know where Europe will be at the end of 2023. The task now is not to think about that, but about how to help Ukraine win the war as soon as possible in order to stop Russia. And to this end, the oil embargo must be imposed immediately," Kuleba said.
According to the chief of Ukraine's diplomacy, even in a situation where some countries, on the one hand, sincerely help Ukraine and on the other pay billions for Russian oil and gas, financing the Russian military machine, Ukraine will still win the war with Russia, but at a much higher cost of human lives, suffering, and destruction of the economy.
"And then you will finance the reconstruction of Ukraine even more. So now you have to focus on what will help you stop the war as soon as possible. And this is the fullest oil embargo that must be imposed as soon as possible," said the foreign minister.
As reported, the European Union intends to propose an exception to oil supplies from Russia and give Hungary, Slovakia, and the Czech Republic the opportunity to maintain imports of Russian oil until 2024. The rest of the Member States must abandon imports by the end of 2022, as originally proposed.