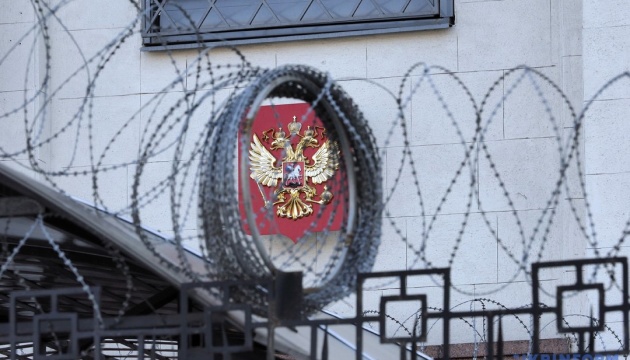 Sixth package of EU sanctions against Russia: Switching off SWIFT, banning propaganda
The sixth package of sanctions, in addition to a total ban on Russian oil imports, includes prosecution of war criminals, disconnection of banks from SWIFT, and a ban on propaganda.
That's according to President of the European Commission Ursula von der Leyen, who spoke at a plenary session of the European Parliament in Strasbourg on Monday, May 4, an Ukrinform correspondent reports.
The official said that they were listing high-ranking military officers and other individuals who committed war crimes in Bucha and who are responsible for the inhumane siege of the city of Mariupol to send an important signal to all perpetrators of the Kremlin's war. Ursula von der Leyen vowed to bring those responsible to justice.
The second point of the sixth sanctions package offers the ultimate disconnection from SWIFT of one of Russia's largest banks, Sberbank, which accounts for about 37% of Russia's entire banking sector. The same concerns other major Russian banks that are of systemic importance to Russia's financial system and to Putin's ability to continue his destructive actions. Such measures, according to Ursula von der Leyen, should ensure the complete isolation of the Russian financial sector from the global financial system.
The ban on European institutions to provide any financial or consulting services to Russian companies will boost the de-SWIFTing of the banking sector.
Finally, the European Commission proposes to completely close the EU space for Russian propaganda.
The EC President announced the ban on three Russian state-owned broadcasters from European airwaves. These companies will not be allowed to distribute their content in the European Union neither on cable, via satellite, on the Internet or via smartphone apps. These TV channels were identified as a means of te aggressive circulation of Putin's lies and propaganda so the ban comes as a way to deprive Russia of a stage to spread disinformation.
As reported, on February 24, 2022, Russia began a direct invasion of Ukraine and continued its military aggression launched in 2014. Russian troops have been massively bombing and shelling peaceful towns and villages, also unleashing mass terror against civilians in the temporarily occupied territories.
Since the onset of the war, the European Union has shown solidarity with Ukraine and begun to provide effective political, economic, financial, humanitarian, and military assistance to the country defending its territorial integrity. The EU imposed five packages of sectoral and individual sanctions, which are seen as truly painful to the Russian economy. The sixth package of sanctions, which envisages further restrictions on the operations of Russian banks and a total ban on EU imports of Russian oil, is to be adopted by a European Council decision.