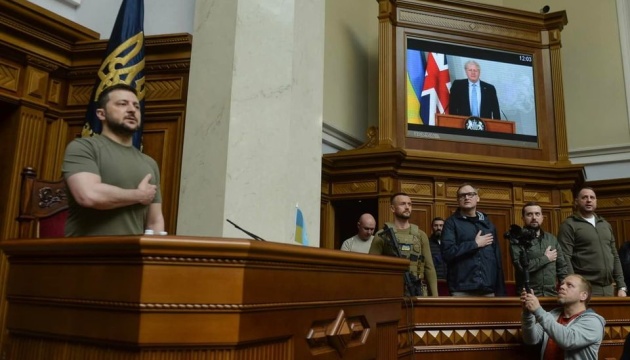 Johnson's address to Verkhovna Rada: I know and believe Ukraine will win
United Kingdom Prime Minister Boris Johnson believes Ukraine will win in the war unleashed by Russia, as the brute force of an aggressor counts for nothing against the moral force of a people determined to be free.
The relevant statement was made by UK Prime Minister Boris Johnson during his online speech in the Verkhovna Rada of Ukraine.
According to Johnson, Putin's troops are committing war crimes, and their atrocities emerge wherever they are forced to retreat – at Bucha, at Irpin, at Hostomel and many other places. The UK will do whatever they can to hold Russian invaders to account for these war crimes.
"In this moment of uncertainty, of continuing fear and doubt, I have one message for you today: Ukraine will win, Ukraine will be free," Johnson told.
In his words, he believes in Ukraine's victory, as he had been to Kyiv on previous visits, stood in the Maidan and seen the tributes to those who had given their lives to protect Ukraine against Russian aggression. Johnson had seen enough about Ukrainian freedom to know that the Kremlin was making a fundamental miscalculation, a terrible mistake, and that Ukraine would fight.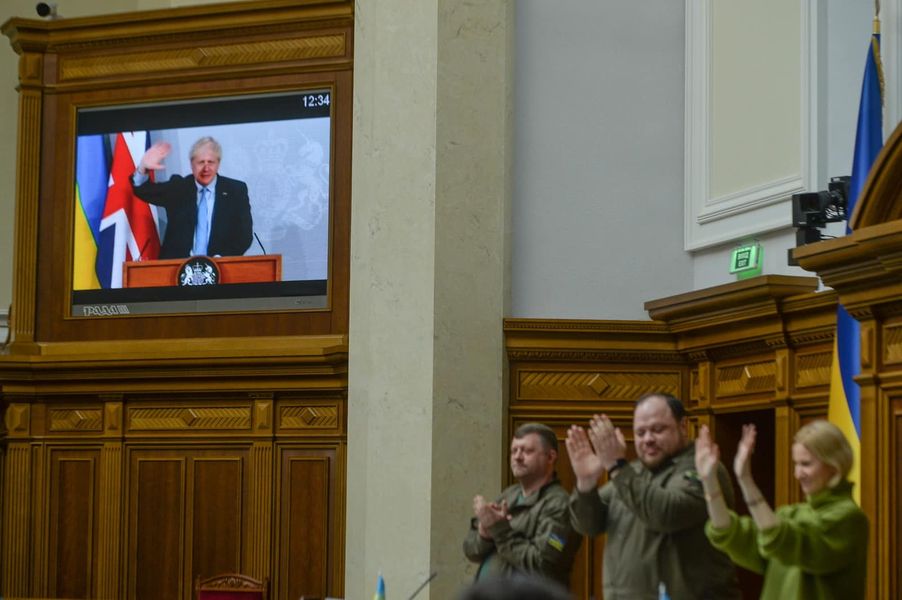 "And today you have proved them completely wrong, every one of those military experts who said Ukraine would fall. Your farmers kidnapped Russian tanks with their tractors. Your pensioners told Russian soldiers to hop as we say, although they may have used more colourful language. Even in the parts of Ukraine that were temporarily captured, your populations, your indomitable populations turned out to protest, day after day. And though your soldiers were always outnumbered – three to one it is now – they fought with the energy and courage of lions," Johnson said.
In this regard, Johnson noted that Ukrainians had exploded the myth of Putin's invincibility and had written one of the most glorious chapters in military history and in the life of Ukraine.
"The so-called irresistible force of Putin's war machine has broken on the immoveable object of Ukrainian patriotism and love of country. This is Ukraine's finest hour that will be remembered and recounted for generations to come. Your children and grandchildren will say that Ukrainians taught the world that the brute force of an aggressor counts for nothing against the moral force of a people determined to be free. They will say that Ukrainians proved by their tenacity and sacrifice that tanks and guns cannot suppress a nation fighting for its independence, and that is why I believe that Ukraine will win," Johnson stressed.
A reminder that, on February 24, 2022, Russian President Vladimir Putin initiated a full-scale invasion of Ukraine, starting a war. Russian troops are shelling and destroying the key infrastructure facilities, launching air and missile strikes on Ukrainian cities and villages, torturing and murdering civilians.
Photo: VR
mk