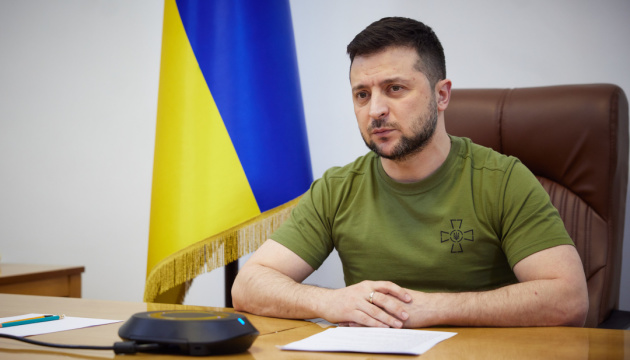 Zelensky on next package of Russia sanctions: All exim operations must be blocked
President of Ukraine Volodymyr Zelenskyi believes that all export and import operations with Russia will have to be blocked as part of the next round of sanctions.
The president touched upon the issue in a video address to the nation late Monday, Ukrinform reports.
"It is also worth preparing for the next sanctions steps. In any case, we will have to block all export-import operations with Russia. Because that's what Moscow profits off. And they don't even understand that international law and peace in Europe need to be respected," Zelensky said.
According to the president, Ukraine is currently working with international partners on new sanctions against Russia. A new package is expected from the European Union in the near future. The package should include clear steps to block Russia's energy revenues.
"We really believe this will be done, so that the terrorist state isn't given a billion euros a day for fuel," the president stressed.
Zelensky said that today the whole free world remains united to make sure no one justifies Nazism, so that no one kills children, so that no one destroys peaceful cities, as Russia does.
On May 2, Zelensky met with the Danish Foreign Minister in Kyiv. The parties discussed the whole range of issues of bilateral relations, including defense, financial, and political cooperation.
"I see progress in the implementation of the agreements reached during the talks with the Prime Minister of Denmark. I am grateful. I heard some good signals. Plans to rebuild Ukraine after the war were also discussed. As well as support for our movement towards the European Union. I am grateful that Denmark is reopening its embassy in our capital. This is the 29th foreign mission to return to Ukraine," the president said.
A large-scale Russian invasion of Ukraine has been going on since February 24. The aggressor has been shelling and destroying key infrastructure facilities and residential areas of Ukrainian cities and villages. The invaders staged mass terror in the temporarily occupied territories.
Photo: Office of the President