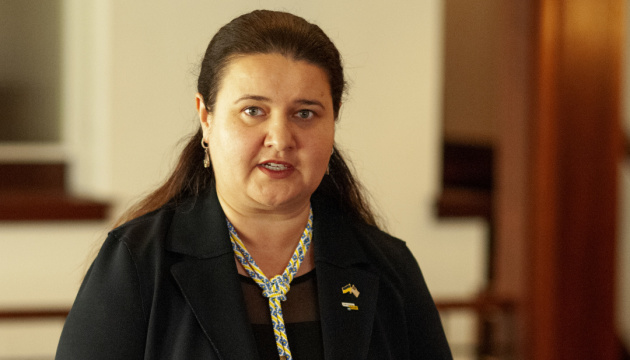 After Ramstein meeting, all partners better understand what weapons Ukraine needs - Markarova
The meeting of the defense agencies and chiefs of staff of several dozen nations in Ramstein, Germany, united the efforts of individual partners in support of Ukraine and created a stronger mechanism for cooperation in defense issues.
Oksana Markarova, the Ambassador of Ukraine to the United States, spoke of this on Thursday in response to a question from Ukrinform's own correspondent.
"The historic meeting in Ramstein, organized by the United States, bringing together about 40 ministers and commanders of the armed forces – our friends, partners, and allies – has allowed turning bilateral coordination into a permanent coordination group," said Markarova.
According to her, this has contributed to ensuring that all partners now "absolutely clearly understand and know" what kind of weapons the Armed Forces need. Thus, this coordination group is focused on the main task – to find and deliver these weapons to Ukraine as soon as possible.
The ambassador also noted the "very high level" of cooperation between Ukraine and the United States, which is being observed in parallel lines between the heads of ministries and departments, military commanders, and presidents. "In fact, now the work is ongoing at all levels," the diplomat said.
As Ukrinform reported, on April 26, a meeting of defense chiefs and chiefs of staff of more than 40 countries took place at the Ramstein air base in Germany. According to the chairman of the Joint Chiefs of Staff, General Mark Millie, the main task of the talks was to synchronize and coordinate defense assistance to Ukraine.
The U.S. Department of Defense has established in Stuttgart, Germany, in the area of ​​responsibility of the US European Command, a control center to coordinate the supply and optimize the delivery of military aid to Ukraine