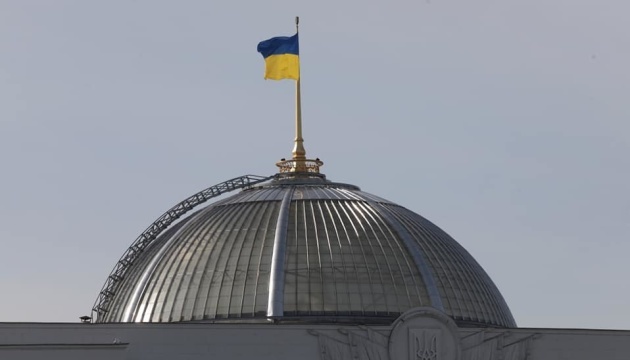 VR recognizes Russia as terrorist state, bans military symbols Z and V
The Verkhovna Rada of Ukraine has banned the symbols used by the Russian military in the war against Ukraine, the propaganda of the Russian neo-Nazi totalitarian regime, as well as recognized Russia as a terrorist state.
Relevant bill No. 7214, "On the Prohibition of the Propaganda of the Russian Neo-Nazi Totalitarian Regime, Russia's Aggression against Ukraine as a Terrorist State, the Symbols Used by the Russian Armed and Other Military Units in the War against Ukraine", was endorsed by Parliament on April 14, 2022, an Ukrinform correspondent reports.
According to the bill, 'Z' and 'V' letters will be recognized as the symbols of Russia's invasion of Ukraine, when their use meets the requirements established by the law.
In addition, Russia is recognized as a terrorist state, whose political regime aims at the genocide of the Ukrainian people, physical destruction and mass killings of Ukrainian citizens, commitment of international crimes against civilians, use of prohibited methods of waging war, destruction of civil and critical infrastructure facilities, creating artificial humanitarian catastrophes in certain regions of Ukraine as one of its objectives.
In addition, the definition of 'terrorist activity' in the Law of Ukraine "On Fighting Terrorism" will be updated with the propaganda of the Russian neo-Nazi totalitarian regime.
A reminder that, on February 24, 2022, Russian President Vladimir Putin initiated a full-scale invasion of Ukraine, starting a war. Russian troops are shelling and destroying the key infrastructure facilities, launching missile and air strikes on Ukrainian cities and villages, torturing and murdering civilians.
mk