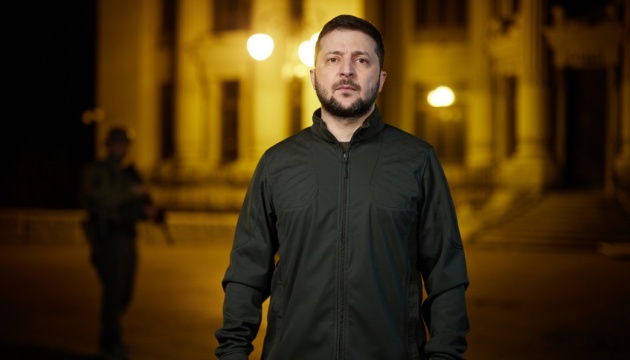 Zelensky invites Merkel, Sarkozy to Bucha to look at results of concessions to Russia
President Volodymyr Zelensky has invited former German Chancellor Angela Merkel and French President Nicolas Sarkozy, who led the nations during the 2008 Bucharest NATO summit, to visit Bucha to see what policy of concessions to Russia has led to.
The president stated this in his latest video address, Ukrinform reports.
"I invite Ms. Merkel and Mr. Sarkozy to visit Bucha and see what Russia's policy of concessions has led to over the past 14 years. See with your own eyes the tortured and slain Ukrainians," Zelensky said.
He reminded that today is the fourteenth anniversary of the NATO summit in Bucharest, when a chance was out there to take Ukraine out of the "gray zone" in eastern Europe, out of the "gray zone" between NATO and Russia.
"The gray zone, where Moscow thinks it's allowed to do anything. Even the most terrible war crimes," the president stressed.
He said that behind optimistic diplomatic statements assuming that Ukraine could become a NATO member, then, in 2008, a refusal was hidden to accept Ukraine into the Alliance, as well as a "senseless fear of Russia on the part of some politicians," who Zelensky says believed that, by rejecting Ukraine, they would be able to calm Russia down and convince it to respect Ukraine and live along with us.
"Over the 14 years since that miscalculation, Ukraine has gone through a revolution and eight years of war in Donbas. And now we are fighting for our lives in the worst war in Europe since World War 2," the head of state said.
Zelensky assured that he did not blame the West or anyone else except the specific Russian military servicemen, who committed crimes against Ukrainians, and those who gave them orders.
"But we have the right to talk about indecisiveness. About the path that led to such Bucha, such Hostomel, such Kharkiv, and such Mariupol. We have no indecisiveness. Whatever bloc we're part of or beyond, we understand one thing: we must be strong," the president added.
As Ukrinform reported earlier, Irpin, Bucha, Hostomelm and the entire Kyiv region were recently liberated from Russian invaders. Mass killings of Ukrainian civilians by Russians have been recorded in liberated towns and villages. In particular, a mass grave was discovered in Bucha, with almost 300 bodies buried in it, while dozens of bodies were seen laying in the streets, some with their hands tied.
Memo: The 2008 NATO Bucharest Summit, or the 20th NATO Summit, took place in Bucharest April 2-4, 2008. The agenda included the recognition of Kosovo, a military campaign in Afghanistan, the alliance's enlargement through the accession of Croatia, Albania, and Macedonia, as well as the MAP for Ukraine and Georgia. At the time, the Ukrainian government hoped to obtain the said MAP, but the move saw no support from a number of allies, including Germany and France.