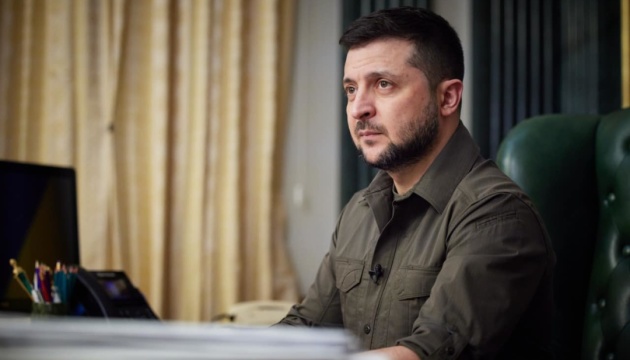 Zelensky to Orban: We saw no effort to stop war
President Volodymyr Zelensky addressed Hungarian Prime Minister Viktor Orban and said that the Ukrainian authorities had not seen any effort by him to stop the war.
"I want to address another person who does not seem to fully understand what is happening. Not only in Ukraine, but throughout Europe. The Prime Minister of Hungary. He is virtually the only one in Europe to openly support Mr. Putin. We did not ask for anything special from official Budapest. We didn't even get what everyone else is doing! Doing for the sake of peace. We did not receive the vital transit of defense aid, we did not see moral leadership. We saw no effort to stop the war! Why so?" Zelensky said in his address.
He also noted that Ukraine had not received the vital transit of defensive aid from Budapest, had not seen moral leadership
"The whole of Europe wants peace. The whole of Europe does not want the battlefield to be moved from Mariupol to Budapest or from Kharkiv to Krakow or from Chernihiv to Vilnius. The whole of Europe is trying to stop the war, to restore peace. Then why is official Budapest opposed to the whole of Europe, to all civilized countries? For what?" the President of Ukraine said.
At the same time, he noted that the main thing was the opinion of the people. The Ukrainian people support the Hungarian people, and the Hungarian people support the Ukrainian people.
"We value peace equally, we value freedom equally. It will always be so. We will always live in good neighborliness. And I am convinced that our minorities should be the bridges that unite us even more," Zelensky added.
The President of Ukraine noted that Orban could have lost his honesty "somewhere in his contacts with Moscow."
As reported, the parliamentary elections in Hungary will be held on April 3. Incumbent Prime Minister Viktor Orban, who will run for elections, said he would not support European Union sanctions on imports of Russian energy. In addition, Hungary refuses to provide Ukraine with weapons to fight the aggressor and has not even allowed the transit of weapons from other countries. Budapest also opposes the rapid granting of EU membership to Ukraine.
Photo credit: President's Office
ol