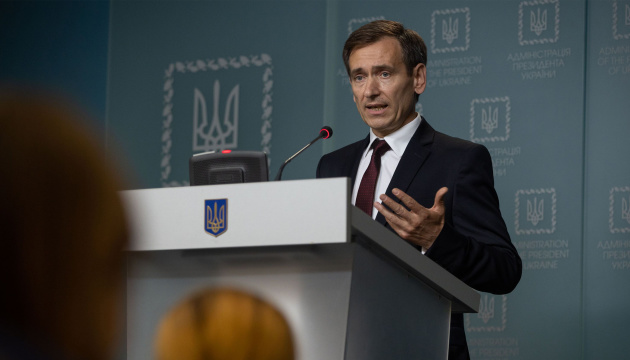 Ukraine can bring to talks neutral status with "reinforced concrete" security guarantees
The issue of consolidating the neutral status of Ukraine with "reinforced concrete" security guarantees at the level of the Constitution can be the subject of international negotiations if this stops the war.
That's according to the President's envoy to the Constitutional Court of Ukraine, member of the Verkhovna Rada Committee on National Security, Defense, and Intelligence Fedir Venislavsky, who spoke at the national telethon, an Ukrinform correspondent reports.
"As for the possibility of considering neutral status for Ukraine. For me, as an expert in the field of constitutional law, it is obvious that human life is of the highest value. If declaring at the constitutional level our neutral status, but with the reinforced concrete and legally impeccable security guarantees, with restoring territorial integrity and state sovereignty within internationally recognized borders, it is possible to stop the war and save thousands of peaceful lives and the lives of our military, this may be the subject of negotiations at the international level," said Venislavsky.
The official stressed that the corresponding guarantees must provide confidence that reinvasion of Ukraine will be impossible in the future.
At the same time, the politician clarified that the approval of neutral status of the Ukrainian state shall be done only by amending the Constitution. According to Venislavsky, this is quite difficult to accomplish. In particular, he said that the procedure is supposed to involve two parliamentary sessions, and it is also necessary to obtain the opinion of the Constitutional Court of Ukraine. In addition, the lawmaker noted that it is impossible to amend the Constitution under martial law.
On February 24, 2022, Russian President Vladimir Putin launched a new phase of the Russian war against Ukraine. Russian troops have been shelling and destroying Ukrainian infrastructure, massively targeting residential areas using artillery, rockets, and ballistic missiles. The Armed Forces of Ukraine, Territorial Defense units, and the entire nation have risen against the invaders and are inflicting significant losses on Russian invasion forces.
On March 15, President of Ukraine Volodymyr Zelensky stated that Ukraine understands that it is not a NATO ally, so it needs reliable security guarantees and hopes to cooperate with partners who are ready to help the nation in the face of military aggression by Russia.
Mykhailo Podoliak, an adviser to the head of the President's Office, said that Ukraine intends to end the war with the Russian Federation by forming a new international security coalition.