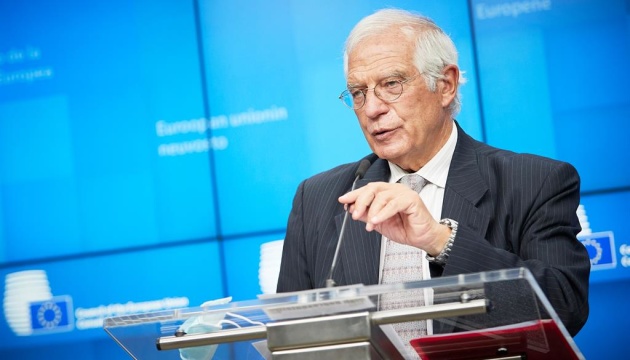 Borrell: Putin has failed and must stop war in Ukraine
All plans of Russian leader Vladimir Putin failed, and now he must immediately stop this crazy war.
"Do not look for division. Do not try to drive a wedge. We are more united than ever. I have never seen the Member States being so united, and together with our transatlantic partners. Putin believed that he was going to conquer Ukraine, he failed. He believed that he was going to divide us, he failed. He believed that he was going to weaken the transatlantic relationship, and he failed. Now, he has to stop the war," Josep Borrell, EU High Representative for Foreign Affairs and Security Policy, said ahead of the informal meeting of EU's Heads of State or Government at Versailles, an Ukrinform correspondent reports.
He noted that Russia was conducting an aggressive war against Ukraine without any kind of reason. "Everybody can see on their TV screens what is happening. Russians are bombing indiscriminately Ukrainian cities, hundreds of casualties, civilians. Two million refugees. Is it our fault, two million refugees? No. Russia is doing the war the way they do, like they did it in Syria, like they did in Chechnya, bombing and destroying a country," the official said.
According to him, the leaders of the European Union will work today in two directions. First, how to continue putting pressure on Russia to stop this crazy war, and to stop the killing of civilians through diplomatic actions, but also through sanctions. And, second direction is how to increase the resilience of the European Union – energy dependence and military capabilities. In this context, the Heads of State and Government will discuss a stronger economic basis in order to face the challenge that Russia is putting ahead of us today.
Borrell also answered journalists' questions about whether the EU would feel safer without Russian gas.
"We will be much safer. We have to spend less gas, to use less gas – the climate requires that. For once, geopolitics and climate go together," the EU High Representative stressed.
As reported, today, March 10, two-day informal meeting of EU Heads of State and Government begins at Versailles, France. Its main issue will be the discussion of the situation after the start of Russia's war against Ukraine and the consequences of Kremlin's criminal actions for the entire system of European security and stability.
Consideration of Ukraine's application for membership in the European Union may be touched upon.
On February 24, 2022, Russian president Putin declared war on Ukraine and launched a large-scale invasion. Russian troops are shelling and destroying key infrastructure, launching massive attacks on residential areas of Ukrainian cities and towns using artillery, multiple launch rocket systems, and ballistic missiles.
Martial law was imposed in Ukraine and general mobilization was announced. The Armed Forces of Ukraine and territorial defense units repel the enemy's attack and inflict heavy losses on the aggressor. Russian troops face fierce opposition from all of Ukrainian society.
The European Union imposed a powerful package of sanctions on Russia as an aggressor state, whose international isolation is growing by the day. The International Criminal Court has begun documenting and investigating Russia's war crimes in Ukraine.
ol