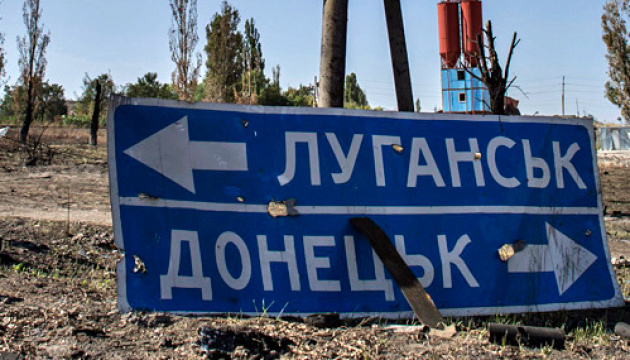 Russia recognizes 'LPR/DPR' within borders of Luhansk and Donetsk regions – Putin
At a special press conference in the Kremlin, Russian President Vladimir Putin has announced that Russia recognizes the so-called "DPR" and "LPR" within the borders of Donetsk and Luhansk regions.
An Ukrinform correspondent reported this with reference to live broadcasting on Russian TV.
"We recognized them [L/DPR], which means that we recognized all their fundamental documents, including the 'constitution'. And the 'constitution' stipulates the borders within Donetsk and Luhansk regions at a time when they were part of Ukraine," Putin said.
According to him, the Russian side hopes that "all disputable issues will be resolved during the talks between the current Kyiv authorities and the leadership of these "republics". Putin has added that it is impossible now because "combat actions continue there," adding that he hopes it will be possible in the future.
In fact, in the so-called "constitutions of the L/DPR," the article about the borders of these puppet entities is vague, so it allows for various interpretations.
Earlier, the upper house of the Russian parliament, the Federation Council, unanimously ratified treaties of friendship and mutual assistance, including military assistance, with the pseudo-republics of "DPR" and "LPR". The agreements were ratified by the lower house – the State Duma of the Russian Federation.
As reported, on February 21, Russian President Vladimir Putin signed decrees on recognizing the independence of the so-called "Luhansk People's Republic" and "Donetsk People's Republic".
iy