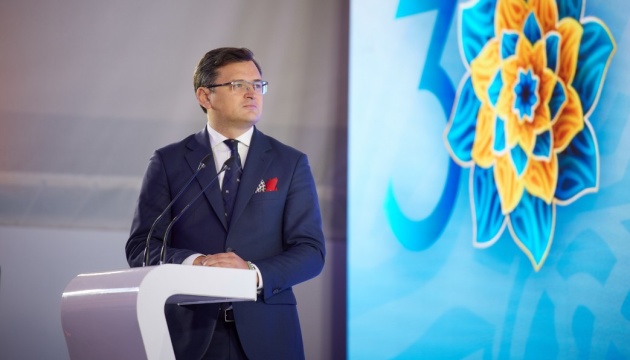 Time has come to impose sanctions on Russia - Kuleba
Kyiv is focused on making the necessary decisions to deter Russia and will insist on the introduction of sanctions against Russia.
Ukrainian Foreign Minister Dmytro Kuleba said this in a video message published by the Ukrainian Foreign Ministry on Facebook, Ukrinform reports.
"Despite, of course, a flurry of emotions, we are now focused on the key thing: to make the decisions necessary to deter Russia. Tonight I had several phone calls with the U.S. Secretary of State, the Foreign Ministers of Canada and the United Kingdom, and the EU's foreign policy chief. The key topic was sanctions," he said.
Kuleba noted that the main thing now is when and what sanctions will be applied. "Our position is clear: it's necessary to impose sanctions on Russia. The time has come," he said.
He added that Ukraine convenes all possible international formats, insists on holding summits, using all possible international mechanisms in order to deter Russia.
"We all understand what is happening and how Russia is provoking us. Now we have to show courage and endurance in order to prevent the development of armed confrontation," Kuleba said.
He noted that the No. 1 task now is to protect the national interests of Ukraine, but the strategic task is also to find a solution that is beneficial for Ukraine in the current situation.
On February 21, Russian President Vladimir Putin declared the recognition of puppet entities "LPR" and "DPR" and signed respective decrees.
At the same time, he blamed Kyiv for escalating the situation in certain areas of the Donetsk and Luhansk regions, saying that Russia had allegedly done everything in its power to preserve Ukraine's territorial integrity. Putin ended his speech with a threat to Ukraine, which he said was acting aggressively in the Donbas.
U.S. President Joe Biden signed a decree blocking the property of certain individuals and banning certain agreements in connection with Russia's efforts to undermine Ukraine's sovereignty and territorial integrity.
Photo: Ministry of Foreign Affairs of Ukraine