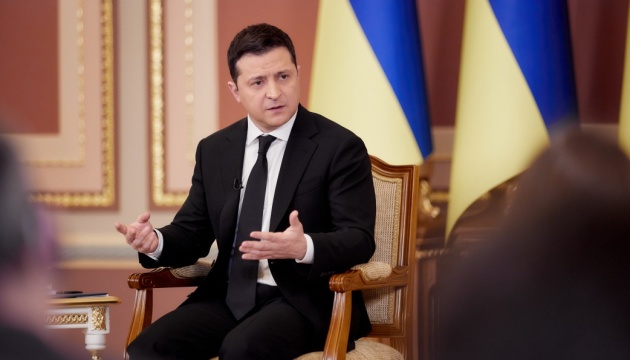 Zelensky: We see no signs of de-escalation by Russia
Ukrainian President Volodymyr Zelensky has said that there are no signs of a de-escalation of the security situation with Russia, while about 150,000 Russian troops are stationed on Ukraine's border.
He said this in a phone call with Slovak Prime Minister Eduard Heger, Ukrinform reports, citing the presidential press service.
"We do not see any signs of de-escalation by Russia. The security situation remains tense, the number of the ground-based group of the Russian Armed Forces in the Ukrainian direction is about 150,000 people," he said.
Zelensky informed Heger about the aggravation of the situation, including the intensified provocative shelling by illegal armed groups of Ukrainian positions, settlements, the Shchastia entry-exit crossing point and a UN humanitarian aid convoy.
Zelensky also acquainted Heger with Ukraine's initiatives to intensify the negotiation process in all available formats with a view to achieving a peaceful settlement of the conflict.
According to the President's Office, both parties agreed that the fate of Europe is being decided in Ukraine today. They also stressed the need for further political and diplomatic efforts by the international community to prevent the escalation of Russian aggression.
In addition, they discussed cooperation between the two countries in the security area.
Zelensky thanked the Slovak government for the decision to hand over two Bozena 5 mine clearance systems and medical supplies worth EUR 1.7 million to Ukraine.
Zelensky expressed confidence that such assistance will strengthen Ukraine's capabilities in the face of existing threats.
"It is not words that matter now, but actions. We need concrete support from our partners," he said.
Special attention was paid to energy security.
The Ukrainian president thanked the Slovak side for creating additional guaranteed capacities for the transportation of natural gas on the Slovakia-Ukraine route, noting that this will strengthen the energy security of Ukraine and Europe as a whole.
He also praised Slovakia's support for Ukraine's European and Euro-Atlantic aspirations.
"We appreciate Slovakia's support for our European integration aspirations. I expect Ukraine to receive the status of a candidate country in the foreseeable future," Zelensky said.
Photo: President's Office